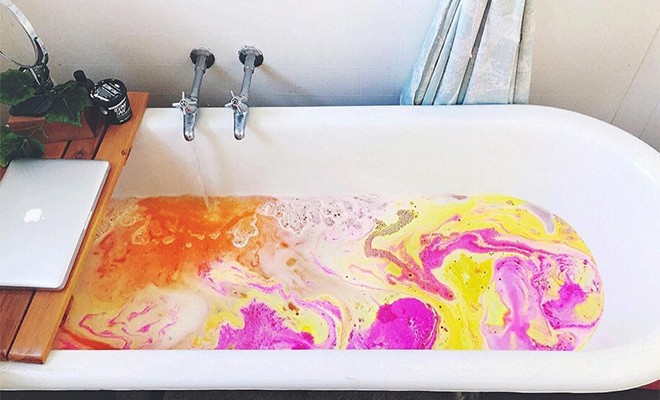 @lushcosmetics
Bath bombs have been all the craze on social media. We get it, though…there's something so serene about how the bath bombs fizz and transform bath water into a marbled and beautiful color.
With its creamy consistency and the added element of fun, there's no wonder everyone's been getting their hands on them. Below are some of our favorite bath bombs of all time!
Lush Dragon's Egg Bath Bomb $6.95
With a citrusy scent of lemon and bergamot, this bath bomb not only smells delicious but also finishes with an unexpected glittery golden surprise.
---
Intimate Bath & Body Black Bath Bomb $5.95
Who doesn't love a little glitter? This one features silver sparkly specks and a natural aloe and clay scent.
---
Hugo Naturals Fizzy Bath Bomb $4.02
For a more earthy feel, this eucalyptus, rosemary, and mint-scented bath bomb is a keeper. This beauty is rich in minerals, which will help soften skin and ease muscle discomfort.
---
Vegan Bath Bomb Gift Set $19.95
We love how nourishing this lovely set is. It's infused with organic shea and cocoa, to replenish and hydrate dry skin. It includes six bath bombs making it a major steal!
---
SpaGlo Cucumber/Melon Bath Bomb $6.99
Made with natural and organic ingredients, this cucumber and melon-scented bath bomb is luxurious and delivers a super moisturizing experience.
---
Lush Yoga Bath Bomb $7.95
If we can get the benefits of yoga without actually having to do it, sign us up! This calming bath bomb puts out a beautiful color and a wonderful scent comprised of sandalwood, olibanum, and ho wood oils.
---
VelvetMoonStudio Donut Bath Bomb $9.95
Care for a donut in the bathtub? Now you can have one without any guilt with these beautifully decorated bath bombs.
---
Level Naturals Lavender + Chamomile Bath Bomb 6-Pack $16.50
To fall asleep swiftly and soundly, throw one of these lavender and chamomile bath bombs into your nighttime bath. You're bound to fall asleep with ease thanks to the soothing scents.
---
Wild Rituals Soap Company Goodnight, Moon Bath Bomb $8
To wrap things up, we have another sleep-inducing pick! With lavender, oatmeal, warm milk, and honey, this bath bomb is ideal for calm nights and a soothing sleep.
---
Pearl Bath Bombs Morning Rose Ring Bath Bomb $16.99
This gorgeous bath bomb contains natural antioxidants and relaxing properties! Handmade with real Moroccan rose petals, it'll release the sweet smell of freshly picked rose. Also, once the bath bomb is finished it will leave you with 1 sterling silver, rose gold, or gold plated ring.
xx, The FabFitFun Team