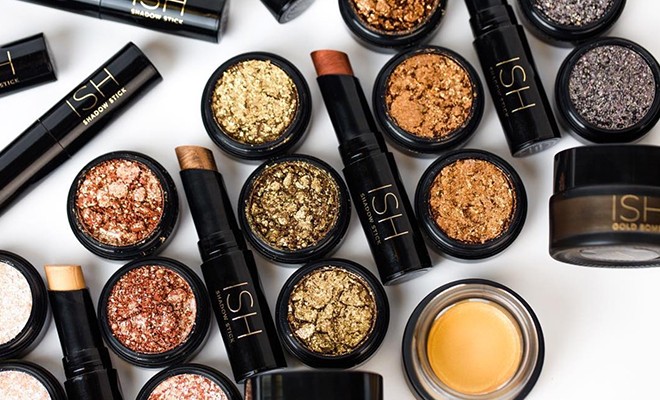 Big news, people. ISH just celebrated its one-year anniversary and, of course, there was no better way to celebrate than with a new anniversary collection featuring gorgeous shadows and pigments.
Joey Maalouf, the creative director behind the brand, introduced the newest products at the W Hotel in West Beverly Hills to a bevy of top-tier editors from E!, InStyle, and Bustle (just to name a few). And let's just say all the editors were obsessed with the collection.
"The ISH Anniversary Collection has everything I need and want for spring and summer — easy-to-apply, long-lasting shadow sticks, gorgeous, glittery eyeshadows, and a gold highlighting balm that I want to coat my entire body with. I've only used the balm once, but I have a feeling it's going to be my new desert island product." – Sara Tan, West Coast Fashion & Beauty Editor at Bustle
"Joey is golden in every which way, and his new Gold Bomb collection is just that: the gold standard! I love that each product can be used in multiple ways and they're perfect for always being on-the-go." – Ramona Saviss, Senior Editor, Events at The Hollywood Reporter
"This ISH Anniversary Collection is like a shimmering disco party for my eyes." – Kristi Elong, Editor at Currently Crushing
"The ISH Anniversary Collection has made me fall in love with eye shadows all over again. The Shimmy Shadows and Shadow Sticks are not only so easy to use, but long last and can be applied in so many different ways and that's a win-win in my book." – Rossana Vanoni, Influencer
Here's a quick peek at the full collection:
Shimmy Shadow Collection $88
These creamy shadows are everything. The pigmentation and texture make it a must-have in our eyeshadow collection. You can purchase the five shadows in a bundle or individually at $22 a pop from the perfect champagne (Champagne Campaign) to a shimmery black (Disco Ball) to intensify any look.
---
Shadow Sticks Collection $56
Shadow sticks are quick and easy to apply! Just swipe once across your lid and blend it out with your fingers to add some color and dimension to your eyes. Plus, the four warm shades hit the earthy tone trend of the season making these a must-have. You can purchase them in a bundle or at $18 each.
---
Gold Bomb $30
The Gold Bomb is a pot of gold (literally). It adds just the right amount of highlight to your cheeks, eyes, body, and even your lips. It's formulated with ingredients like sunflower seed oil, shea butter, and coconut oil to condition and moisturize your skin. Hello, spring glow!
xx, The FabFitFun Team