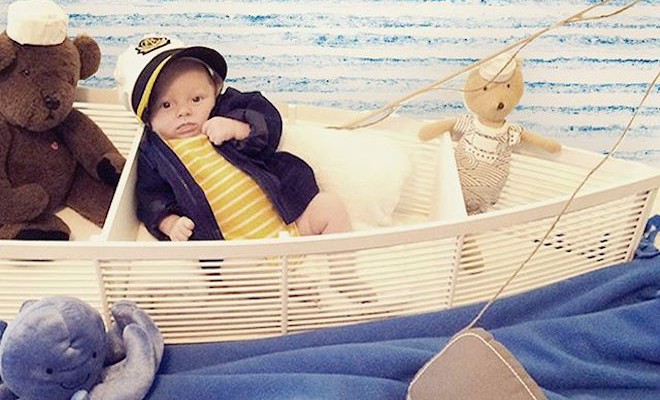 @shipmate_shaw
You've most likely got your Halloween costume figured out already, but what about the kiddos? Priorities, people, priorities! In case you've slacked off this year and all of the cool costumes have been scooped up, we've got five super creative DIY ideas that will give you some hope.
Last year, we started following @shipmate_shaw (aka Huxley), whose fun mom and dad started a #13daysofhuxoween movement. And this year, they brought it back with even more amazing ideas. The best part? You probably already have most of these materials at home.
Check them out below for some last minute inspiration. It's living proof that all you need is a little dose of creativity!
Mr. Peanut
A nod to Mr. Peanut, the Planters peanut mascot. Pretty darn cute, right? Also, #whydidntwethinkofthat?
---
Garth Algar from Wayne's World
While it's hard to choose a favorite, this nod to Wayne's World is pretty epic. And plus, as a parent, you can dress up as Wayne and go as a duo — all while your little one sleeps!
---
A Jaws Movie Poster
Like we mentioned before, picking favorites is hard. Because who doesn't love Jaws (which is on Netflix right now by the way).
---
The Gorton's Fisherman Guy
Got a box of Gorton's Fish Sticks and a yellow raincoat? Then you've got yourself a Gorton's Fisherman costume.
---
Tom Cruise in Risky Business
And then there was Tom Cruise in Risky Business, which is also super fun…and super easy! All you need is a white button up shirt and socks. And we're pretty sure you have these items already.
Happy Halloween!
xx, The FabFitFun Team