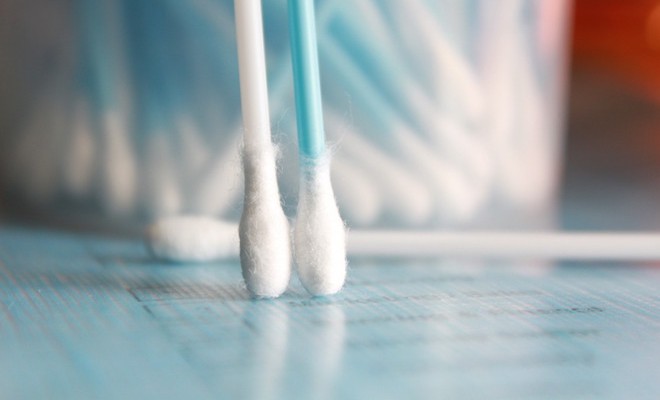 You've used cotton swabs for cleaning your ears, getting rid of nail polish on your skin, and wiping away eyeshadow and eyeliner smudges. But this #BeautyTuesday involves some serious beauty hacks you've probably never heard of. If you're running low on cotton swabs, now's a good time to stock up. Cause we learned everything from how to keep necklaces detangled to keeping your gorgeous pout in place all night long.
Check out these pro tips below — and remember: never leave home without a stash of cotton swabs again!
Hide Under Eye Circles
Hide under eye circles by using one end of a cotton swab to dab on three dots of concealer. Use the other end to blend for a seamless finish.
Fix Broken Eyeshadow
Broken eyeshadow on the road? Take the broken eyeshadow and place it into a clean contact case. Add a few drops of rubbing alcohol, then use a cotton swab to press the product and pack it back together. Voila!
Save Packing Space
Coat the ends of a few cotton swabs in your favorite eyeshadow shades, and then put them in a plastic sandwich bag when traveling to save packing space.
Keep Necklaces From Detangling
Wrap delicate necklace around a cotton swab to prevent tangles and to easily spot your favorite jewelry in your suitcase.
DIY Lipstain
Using your favorite flavored drink mix. Start by pouring the packet into a shallow bowl. Next, dampen your finger, press in the powder, and apply to your lips. Finally, dampen a cotton swab to go back over it and smooth out any clumps or uneven edges. Perfect for a quick touchup at a day at the beach!
Image via Q-Tips
Apply Fake Lashes
Use cotton swabs to help apply fake lashes! Start by applying a dab of lash adhesive to the tip. Keep the tip close to the lash line and use it to guide the application of the faux lash strip.
Disposable Eye Shadow Brushes
Cotton swabs are great for eye shadow application because they are disposable, so you can use a new one for each shadow color. No need to worry about washing brushes while layering colors…they are a cleaner alternative!
Make Eyes Brighter
To instantly brighten your eyes, add a dab of a light shimmer to the inner corners. (Try using Q-tips Precision Tips, which help you place shadow in the exact right place.)
Create a Shimmering Glow
Use cotton swabs to apply concealer or shimmer cream along the center of your nose for a longer, thinner look. To further enhance, apply two light dots of taupe shadow to either side of the bridge of your nose.
Define Cheeks with Cream Blush
To define cheeks, use a cotton swab to apply cream blush to hollows of cheeks and blend up and out into skin with clean fingers toward the hairline.
Define Your Eyes
Use a cotton swab to shade the deepest hollow of your eye and blend down toward your lash line in a v-shape. You'll increase the dimension of your look and create the illusion of a larger eye.
Image via Q-Tips
Highlight Brows and Cheekbones
As a great way to highlight and brighten the cheekbones and eyes, apply a natural shade of shimmer powder using cotton swabs to the upper brow area and along the cheekbone.
Keep Your Pout in Place
Keep lip color from bleeding by using cotton swabs to apply loose translucent powder along the outer edge of the lips.
Softer Lip Liner
To soften your lip liner look, make a "dot dot dash" pattern with lip liner and use a cotton swab to blend and soften.
xx, The FabFitFun Team