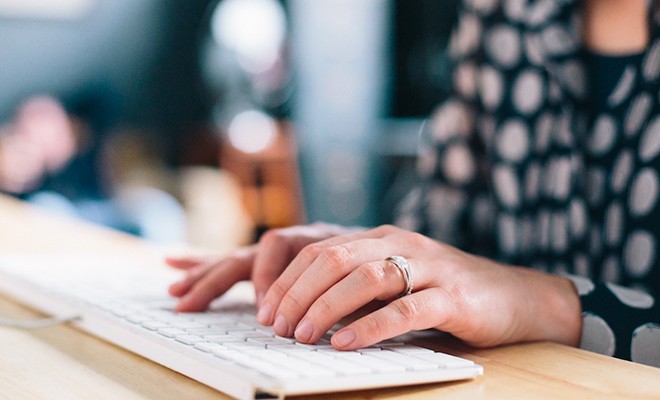 You'll meet a lot of people in the FabFitFun office, but the one person you'll meet that embodies everything that FabFitFun stands for is Katie Kitchens, our Editor-in-Chief and Co-Founder.
I met Katie when I was 23-years-old, straight out of college, and on the hunt for my dream job. She tweeted about an opening for an Editorial Intern, I interviewed, and the rest was a beautiful stroke of luck that landed me where I am today — working as a Lifestyle Editor and Social Media Manager at a growing women's lifestyle company. So yes, Katie is like my 21st century fairy godmother.
Truthfully, the success of this company didn't happen overnight or with the wave of a wand. It has taken a lot of sacrifice, hard work, creativity, and foresight on the part of all of our founders, and Katie has led the way with grace that I can only hope to emulate as I continue in my role.
Here are five reasons I admire Katie Kitchens:
She's an entrepreneur. Katie is a very smart businesswoman. She keeps her moves transparent, and works with honesty and integrity. She has worked together with our founders to build a brand that she believes in and that puts a little more happiness out into the world.
She's a working mother. Katie was actually pregnant with her first daughter, Summer, when FabFitFun debuted its first subscription box (she actually jokes that the FabFitFun Box was her real first baby). She now has another little girl, Sienna, and balances her role as EIC and mommy impeccably.
She supports other women. Katie has always kept women at the center of our company's values. She has taken the lead on including female-founded brands in our FabFitFun boxes, and advocates for charities that benefit women.
She's not afraid to learn something new. When FFF started, Katie was a writer, editor, social media manager, and more. But as the company began to evolve, her role changed entirely. She took on the responsibilities of curating a box of products that thousands of women would love, forging partnerships, managing vendor accounts, etc. Yet Katie embraced the challenge, learned by trial and error, and has been pivotal in FFF's success.
She treats her employees as equals. EIC's get a bad rap as being the Devil Wears Prada-type, but Katie is anything but. She has always fostered an environment of creative freedom, allowing everyone to voice their ideas, and work on their passions. Katie is a constant source of support, motivation, and mentorship, and she empowers her employees rather than commanding them.
While Katie can't turn pumpkins to carriages, and has yet to find me a Prince Charming (though she has tried), she has helped make many of my dreams come true, and I am grateful to have a strong woman like her in my corner at FabFitFun.
xx, Tasha
P.S. Want to be inspired, motivated, and empowered? On Nov. 5 Katie and three other women (including Nicole Richie!) will be speaking as a part of the "Pearls of My Life Panel" at Pearl xChange, a women's conference at the London Hotel in West Hollywood. Grab your ticket here!