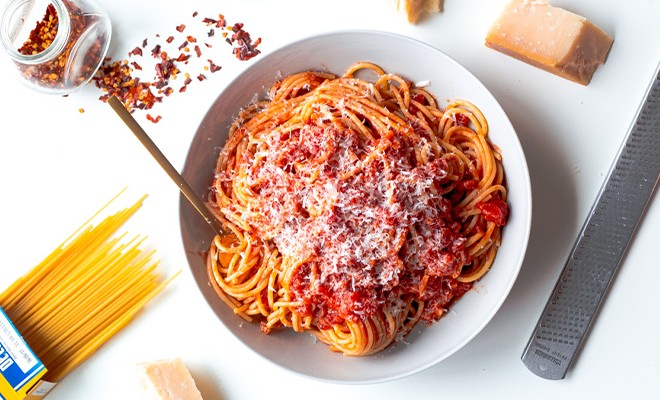 abeautifulplate.com
Spaghetti is a classic dish you can never go wrong with.
While it's an easy meal to prepare whether you're making a week's worth for lunch or serving it at your next dinner party, but let's be real: the taste of spaghetti can be quite plain and boring.
Well, we found some unique and creative spaghetti recipes that'll amp up your spaghetti game — and these recipes taste so much better than your standard combo of noodles and tomato sauce. Scroll through our faves below!
Bruschetta Chicken Pasta Salad
Chicken combined with spaghetti is one of our fave combos — especially because spaghetti typically isn't eaten this way. Fresh tomatoes, chicken, and herbs will make your Italian food dreams come true.
---
Cheesy Spaghetti Stuffed Peppers
Instead of serving pasta in a bowl, create a more nutritious dish (pun intended) with a bell pepper! It's a fresh twist on stuffed bell peppers and you can easily stuff noodles into one bite without the mess.
---
Mexican Spaghetti Bake
File this recipe into a "clean out the pantry" file. Using most things you probably already in your pantry, boil the noodles, place all the ingredients into a casserole dish, and bake it. Yum!
---
Slow Cooker Spaghetti Bolognese
A crockpot is a novice cook's bestie. Dump your noodles, tomato sauce, and ground meat into the pot, leave it to simmer, and enjoy steamy hot pasta.
---
Lemon and Herb Spaghetti Squash with Roasted Shrimp
Take spaghetti squash to another level! Mix it up with the lemon and herb sauce which marries well with the shrimp for a refreshing spaghetti dish.
---
Creamy Garlic Herb Mushroom Spaghetti
Mushroom spaghetti with a creamy garlic herb sauce? We're drooling. This pasta dish includes delishly marinated mushrooms and a good dose of garlic.
---
Classic Spaghetti All'amatriciana
For those of you that have eaten pasta in Italy, this recipe will take you right back to that moment. Crispy pancetta and crushed tomatoes create distinct flavor in this dish which only takes 30 minutes to prepare.
---
Cowboy Spaghetti
Rachael Ray rarely steers us wrong and this is no exception. Bacon, beer, hot sauce, and Worcestershire sauce brings some southern flavor to this fun take on spaghetti!
---
Spaghetti with Creamy Butternut Leeks
This is the perfect fall pasta dish as squash is in peak season. Lighten it up with rice noodles or a gluten-free noodle of your choice!
---
Sweet Potato and Red Pepper Pasta
We never thought about adding sweet potatoes to our pasta…until we found this recipe. This vegetarian dish is light, refreshing, and super simple to whip up.
xx, The FabFitFun Team