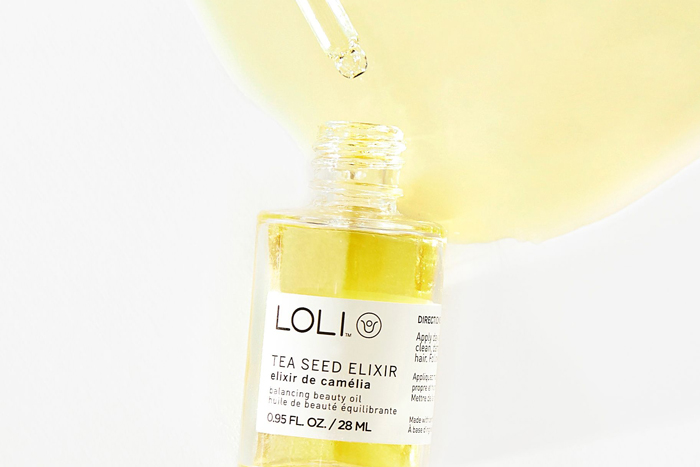 When it comes to your skin care routine, sometimes it's best to take matters into your own hands. Sure it's tempting to *add to cart* the latest beauty crazes, but what if your routine calls for you to roll up your sleeve and practice a little DIY? All you need to do is choose your fighter — select one beauty ingredient that will work as a skin solution from head to toe.
For us, it's the LOLI™ Tea Seed Elixir. An acronym for Living Organics Loving Ingredients, this miracle elixir packaged in the perfect tincture is the powerhouse ingredient for all of your DIY skin care. Tea seed oil (also known as camellia seed oil) is a super hydrating, antioxidant-rich oil known to improve the texture and tone of skin, and even help with the visible signs of aging. For hair, it's a shine booster and frizz fighter and can be even massaged into flaky, itchy scalps.
"One of the advantages of our multipurpose, pure and potent Tea Seed Elixir, is you can use it as your organic oil in so many skin, body and hair DIY beauty hacks," says Tina Hedges, founder and chief recipe keeper for LOLI™.
What's the wait? Let's get your hair, nails, and skin looking good with some key beauty recipes and hacks that make every drop of the LOLI™ Tea Seed Elixir count.
Heal your nails
Brittle nails? Thanks, but no thanks. It's been so hard to give our nails the TLC they deserve during the pandemic, but with the Tea Seed Elixir, that's about to change. It's as simple as a drop per nail. Just add one drop of the elixir onto each of your dry, unpolished nails and massage the beauty oil in real good.
Keep your makeup primer simple
When layering makeup on your skin, it's better to do it on a clean and healthy palette. We recommend washing your face clean and massaging one to two drops of the Tea Seed Elixir into damp skin before applying your foundation. Doing this will help keep your skin extra smooth and prevent the settling or caking of your makeup.
Revive your frizzy or dry hair
For your hair, we've got a beauty concoction that is sure to calm your frizz and bring those dead locks back to life.
Mask for Frizzy, Dry Hair
Ingredients:
10 drops of Tea Seed Elixir
3 teaspoons avocado oil
Directions:
Mix the Tea Seed Elixir into a small bowl with the avocado oil.
Apply to damp, clean hair. Then wrap in your shower cap and wait 30 minutes (this would be a good time to add the oils to your nails if you're into multitasking).
Release your hair, then shampoo and condition as usual, adding the Tea Seed Elixir into your conditioner as needed.
Repair your dull, dry skin
The winter months are upon us and that can only mean one thing: dry skin (and cute seasonal sweaters, but we digress). So that you're looking your best all winter long, we're sharing our favorite DIY mask that's sure to alleviate your flaky dry skin.
Tea Seed Mask for Dry Skin
Ingredients:
2 teaspoons pink or bentonite clay
1 teaspoon loose tea or bag of rosehip tea
4 ounces of purified water
2 fresh strawberries (or ½ strawberry powder)
½ teaspoon aloe vera gel
3-5 drops Tea Seed Elixir
Directions:
Bring water to boil and remove from heat. Add loose tea or tea bag and infuse for five minutes.
Strain loose tea leaves or remove the teabag and set aside to cool. If water is still hot to touch, put in the freezer for a few minutes.
In a blender, add the infused tea and strawberries (or strawberry powder) and aloe vera gel. Blend well. Set aside the remainder of the tea.
In a small bowl, mix together clay with 2 teaspoons of the mixture from a blender and 3-5 drops of Tea Seed Elixir. Adjust consistency with more clay or liquid mixture to get a wet paste (not too runny, not too thick).
Apply to clean damp skin and wait 15 minutes.
Rinse well with cool water. Splash skin with some of the remainder of the tea and follow with three drops of Tea Seed Elixir to seal in the hydrating, plumping, and brightening benefits.
If any mask is left over, you can keep in an airtight container in the fridge for two days.
The LOLI™ Tea See Elixir will do wonders for your hair, skin, and nails — a beauty staple that totally deserves a spot on your skin care shelf. What's your favorite way to use this magical elixir? Let us know in the comments below!
xx, The FabFitFun Team
Psst! Have you signed up for FabFitFun yet? Don't miss out on $200+ in amazing beauty, fitness, fashion, and lifestyle products, access to exclusive fitness and cooking content on FabFitFunTV, members-only sales, and more. Use code SHIMMER at checkout for 20% off your first box.
To get the most out of your box products, make sure to check out the Insider page.