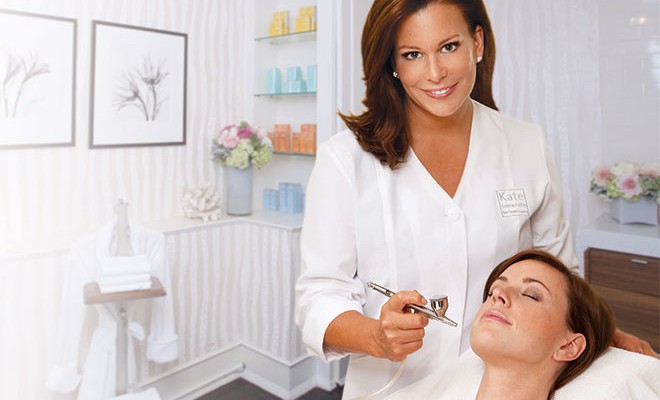 Quirky beauty trends are all the rage these days. From using oils to combat oily skin to using licorice to brighten skin, we've pretty much heard it all.
Luckily, we had a chance to sit down with Kate Somerville who founded the cult skincare line Kate Somerville to debunk a few of these beauty trends and learn if they're actually effective.
Does activated charcoal actually help pores appear smaller, deep cleanse your skin, and treat acne?
Activated charcoal absorbs skin oils and impurities. It can draw dirt, oil and debris out of pores, making them appear smaller. By cleaning out the pore, charcoal can help to prevent acne.
What do you think of double cleansing (cleanse once with oil cleanser, then with a foam cleanser)?
I always promote a double cleanse – it ensures you fully remove all makeup and dirt from your skin. At my Skin Health Experts™ Clinic on Melrose Place we begin all of our treatments with a double cleanse. You don't have to switch up your cleanser, you can use the same one twice.
Can oils (coconut oil, tea tree oil, etc.) help combat oily skin?
Tea tree oil helps minimize oil production and kill acne-causing bacteria in the skin. It will help balance the skin and will eventually dry up a pimple, generally without causing irritation.
Which active ingredient is better for anti-aging? Retinol or acid — and is it worth trying?
Retinol! Retinol is one of the most powerful anti-aging ingredients. I encourage all of my clients 30 and older to incorporate retinol into their skincare regimen. In your 30's you will begin to notice dark spots, textural issues, fine lines, and a loss of elasticity.
There are so many incredible benefits to retinol — it helps promote collagen production, improves the appearance of skin firmness and elasticity, reduces the appearance of fine lines and wrinkles, increases surface cell turnover, smooths the appearance of skin texture, and minimizes the look of dark spots, imperfections and pore size.
What are your thoughts on unconventional beauty ingredients like algae, red clay, manuka honey, and licorice? Are these ingredients really effective?
They're great ingredients and I have incorporated many of them into my products. Licorice is a natural brightening agent (found in my LumiWhite Collection). Manuka Honey (found in my new Goat Milk collection) is known for its healing properties and for nourishing skin with natural minerals and vitamins. Algae helps to firm skin, and red clay is rich in skin essential minerals and has oil absorbing properties.
Are facial peels and facial cleaning brushes worth the money?
I've used cleansing brushes at my Clinic for years! Clarisonic and Foreo are great for getting a deeper cleanse and exfoliating skin. These devices really get into your pores and help to keep them clear. At-home peels can be a great way to exfoliate. My Clinic-To-Go Resurfacing Pads contain Lactic Acid (a chemical exfoliator) to gently exfoliate skin.
Are vitamins and supplements beneficial for anti-aging (i.e. primrose supplements, hyaluronic acid supplements)?
Vitamins and minerals are so important to your overall skin health — they keep your body healthy and properly functioning from the inside out. They can help reduce breakouts and make skin appear healthy and radiant. Evening Primrose is great for those suffering from hormonal breakout, as it helps to balance hormones. Probiotics are also a fantastic supplement — they help repopulate the gastrointestinal tract with beneficial bacteria that are killed along with the bad bacteria when you take antibiotics. Great for clients with acne.
Hyaluronic Acid is one of the skin's most important components for hydration and moisture retention. As we age, our ability to naturally produce sufficient levels of Hyaluronic Acid diminishes, and as a result, skin becomes drier. This is why I recommend many of my mature clients supplement their diet with it.
Some have recently been investing in Dermaflash and getting their faces 'shaved' to get glowing skin. Do you recommend this?
I have been dermaplaning since my mid to late 20's (I can't wax because I have eczema), and was one of the first to implement dermaplaning at my Clinic. It's a great way to exfoliate on a deeper level and remove peach fuzz (which all women have). Makeup goes on smoother and you will get better results from products and treatments used after, as they can penetrate deeper.
xx, The FabFitFun Team