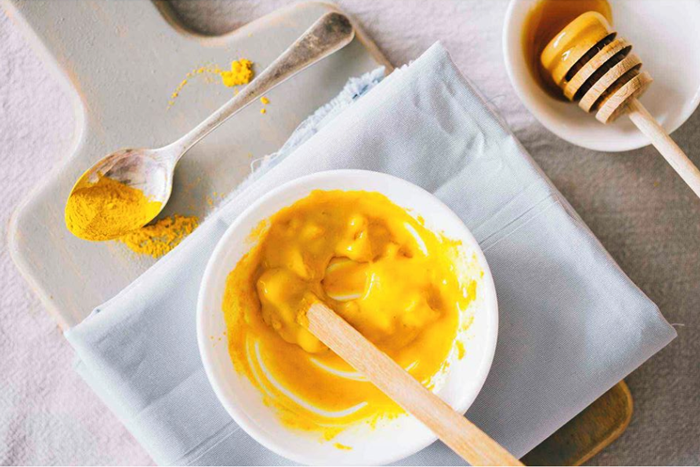 Feature Image by Shiffa Beauty
As the days start to blend together, we know you could use a few things to help you stay creative during this time. That's why we're providing you with some quick and easy recipes to help you concoct the mask of your dreams. Whether you want to moisturize your dry skin or want to make the most of the extra downtime, we've got DIY masks that do it all. The best part? For most of these, all you have to do is turn to your pantry or refrigerator in order to get things started.
Turmeric Face Mask by Dr. Lamees Hamdan
We love an anti-inflammatory face mask, and this DIY miracle mixture does just that. All you have to do is mix the ingredients together in a bowl and then lather it on your face. Yep, it's that simple and chances are you have most of these ingredients at home. This mask is rich in antioxidants and is the remedy we all need for acne, dry skin, wrinkles, and dark circles (which somehow still exist even during social distancing).
– 1/2 teaspoon of turmeric
– 1/2 teaspoon of honey
– 1-2 tablespoons of yogurt
Brightening Mask by Olivia Lopez
We're taking a page out of this author and blogger's beauty book. If you've got some avocados lying around, you're already a third of the way there. Mix that in with honey and yogurt and you've got yourself a brightening mask. Lopez leans on this remedy after traveling, but we say do it whenever you're looking for that gorg glow.
– 1 teaspoon of honey
– 1 avocado
– 1 tablespoon of yogurt
Blueberry Mask by Dr. Ava Shamban
Blueberries make for a killer face mask ingredient. The deep blue color is the result of powerful antioxidants that protect the skin against harmful free radicals. In addition, blueberries are packed with vitamin C, explaining why this superfruit is good for the body inside and out. Once the ingredients are mixed together, leave the mask on for 20 minutes, and then wipe your face clean with warm water. Plus, the honey's antiseptic and anti-inflammatory properties work hard to defeat acne-causing bacteria.
– 1/3 cup of blueberries
– 2 tablespoons of yogurt
– 1 tablespoon of rice flour
– 1 teaspoon of honey
Nutrient Mask by Cap Beauty
For this mask, all you need to do is combine the below ingredients and then add a mix-in of tocotrienols, algae powder, shea butter, or more matcha. Tocotrienols are perfect if you live in a place that's lacking in vitamin D, algae powder works hard at mineralizing and alkalizing your skin, shea butter relieves parched skin, and additional matcha works to reduce inflammation and even out your skin tone. Whatever way you mix it, leave on for 10 minutes (or 45 minutes if it just feels that good), rinse with warm water, and moisturize.
– 2 tablespoons of Manuka honey
– 1 teaspoon of brewed green tea or matcha (chamomile for sensitive skin)
– 1 tablespoon of tocotrienols
– 1 teaspoon of algae powder
– 1/2 teaspoons of shea butter
– Additional matcha
Since we're all in the business of staying at home these days, why not give your skin the treatment it deserves? What are some of your favorite DIY mask recipes? Let us know in the comments below!
xx, The FabFitFun Team