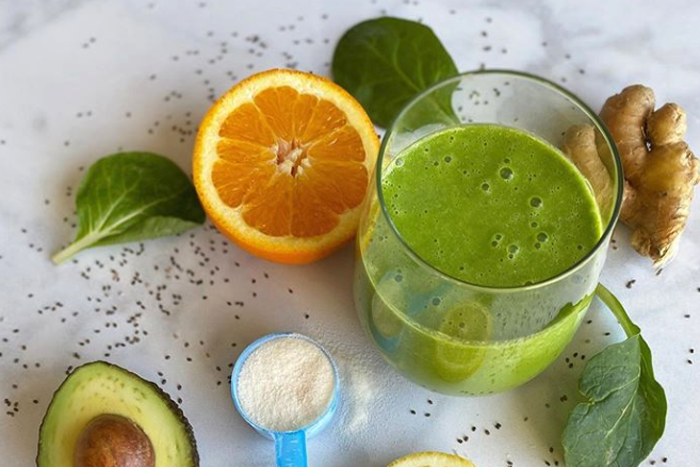 Feature Image by @bewellbykelly
While you might take vitamins and supplements for a healthy body, it's equally as important to nourish yourself with foods that are rich in immune-boosting ingredients.
Ahead, we found 10 immune-boosting smoothies – chock full of ingredients like almonds, spinach, berries, ginger, and vitamin C – to help keep you healthy during these trying times.
People who are picky about green juices will love this smoothie that tastes sweet as can be. It blends blueberries, strawberries, raspberries, clementines, almonds, and more to give your immune system the boost it needs.
---
These colorful smoothies are as delicious to sip on as they are photogenic to snap. Will you opt for the pink or green smoothie?
---
Celebrity nutritionist Kelly Leveque is renowned for her tasty Fab Four smoothies. Here, she shares her power-packed Citrus Strength recipe, which her husband and little one love.
---
Orange, carrot, mango, turmeric, ginger root, and a whole slew of other good-for-you ingredients blend into this tasty immunity-boosting smoothie. One serving has 145.6% of the daily recommended vitamin C allotment.
---
These gorgeous smoothies are as good for our immune systems as they are for our Instagram grids.
---
You might not think a dessert-inspired smoothie would do much good for your immune system but think again. Thanks to the spinach and almond butter, it's a given.
---
What do you get when you mix strawberries, oranges, coconut milk, and honey? A rich, immunity-boosting smoothie that you'll want to sip on all morning long.
---
Here, frozen bananas, strawberries, and dragon fruit pitaya powder combine for a seriously nutritious breakfast recipe.
---
Berry lovers, get excited. This colorful smoothie bowl combines a blend of five berries with coconut and banana for a light and refreshing breakfast that will kick-start your energy levels.
---
Looking for an energy boost outside of a cup of joe? This nutritious blue spirulina smoothie bowl will do the trick.
xx, The FabFitFun Team