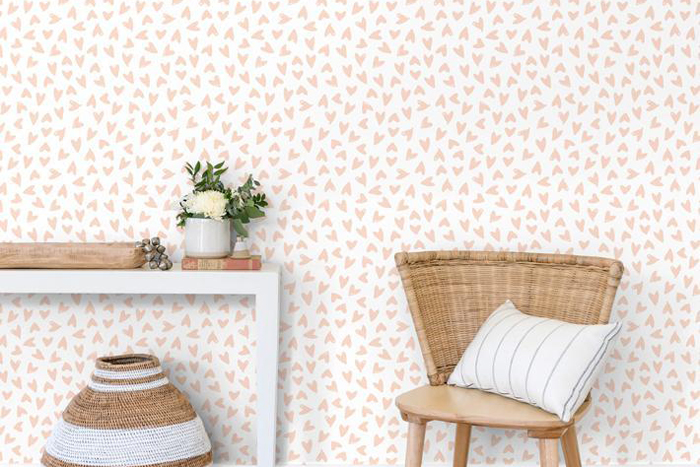 Feature Image by Wall Shoppe
As more people continue to work from home for the time being, and big companies are making WFH permanent, it's time to spruce up the space you're working in.
Over the past few months, you might've bought a new desk organizer or maybe a plant to keep yourself company but your WFH space deserves so much more. There is an easy, temporary way to elevate your workspace, whether you're in a house, apartment, or sharing a space with someone else.
Temporary wallpaper is the quickest and least painful way to add something new to your space. It's, of course, not as permanent as regular wallpaper or paint and it's much easier to put up and remove.
Check out the best temporary wallpapers to give your WFH space a new look and feel.

This gray, bronze, and white floral print wallpaper will add something unique to any space. It's the perfect wallpaper to add to a larger room, or create an accent wall.
---

Perhaps long steemed florals are not your style and you prefer something more laid back. This white and grey abstract design would make any room pop!
---
If you want to get really crazy with a slightly minimalist feel, this pineapple wallpaper might be for you. This would look great as a half wall design. It's enough to make your space feel special without being overpowering.
---

If print wallpaper isn't your favorite, yet you don't want something totally plain, ombre might be perfect for you. This pink gradient style is simple yet bold enough to satisfy both ends of your interior design style.
---

If you want something super simple, this tree print is subtle enough for any space but adds a hint of something more than just plain wallpaper.
---

Is there anything more millennial than a pink palm tree design? This would be the perfect temporary wallpaper to put up in a second bedroom and create a true at-home office. You can also use it to separate your WFH space from the rest of your home.
---

This is a print that could work in any room of your home but is very calming and peaceful for a WFH space. The muted tones complemented by a touch of pink and green can make any space feel homey!
---

Who doesn't love hearts? This pink and white wallpaper would make the cutest accent wall in your home office!
xx, The FabFitFun Team