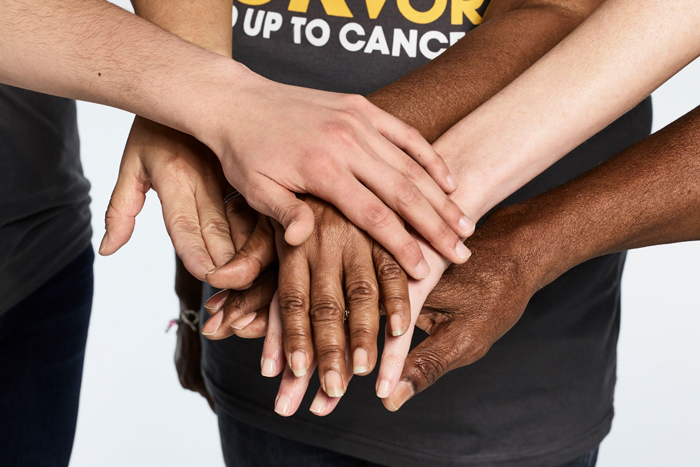 Feature Image by Stand Up To Cancer
It's been amazing to see the love and support our FabFitFun Community has shown one another during these crazy times. From healthcare workers who are directly on the frontlines to those courageously fighting cancer during the pandemic, many of our members are facing challenges like never before.
This season, we're collaborating with Stand Up To Cancer to shed light on how the fight against cancer has changed amidst COVID-19. We also wanted to highlight some personal stories from a few of the cancer warriors in our Community. Read on as they share how the past few months have been for them.
"I was diagnosed with pancreatic cancer in October 2018 after a year of unexplained and recurrent pancreatitis. I had surgery in December 2018 to remove the tumors and, unfortunately, the cancer came back while I was healing from surgery and waiting for insurance approval. It was already two times the size of my original tumor and had spread to my liver, making me terminal stage 4. At that point, I had less than a 5% chance of surviving five years. Here I am two years later, and I'm feeling pretty good. I finally started my new chemo in January and I've been feeling great! Even better, since my doctor told me that the chemo is working and all of my tumors have shrunk. There is no cure for my cancer, and I still have a very low chance of survival, but it felt good to finally get some good news. I'm only 28 years old, and I have a 6-year-old son — I'm going to do everything I can to be here for him for as long as possible. As of right now, I'll have to be in chemo for the rest of my life, but I can handle this. I definitely joined FabFitFun to give myself something to look forward to, and I'm so glad I have because it's really brought back a joy of makeup and skin care that I lost when I got sick." – Joanna
"I got diagnosed with breast cancer during the start of COVID-19. It was a challenge being diagnosed in February and my surgery got canceled. Then I did the surgery in May and I had two surgeries. The most difficult part was traveling to Dana Farber in Boston, as I live in Enfield, Connecticut. I could not believe I had the entire hospital to myself during my first surgery and my doctor, Anna Weiss, and the nurses took excellent care of me. I was there alone due to COVID-19. The second surgery was two weeks later and once again Dr. Weiss assured me again that I would be just fine. I made it through and as of May 26 was diagnosed cancer-free (breast cancer survivor). I remember being at home recovering and there was a FabFitFun box and inside were all the awesome things a survivor needed to survive during treatment. I have to thank my vice president Sandy for recommending FabFitFun because it truly helped me during a life-changing time. My FabFitFun boxes have really helped me with all the different things I needed to help me through the chemo and everything. My boxes had a lot to do with the comfort and the healing." – Michelle
"I just wanted to let you know that your box has been the highlight of my life. I started to receive the box in the fall of 2016 after a diagnosis of cancer. Since then I have enjoyed it as I continued to fight for these past four years. Thank you so much!" – Christina
Learn more about the fight against cancer and how you can help at StandUpToCancer.org and @su2c. You can also donate to SU2C in Winter Add-Ons, which opens to Select Members on Thursday, October 29, and Seasonal Members on Thursday, November 12 at 9 a.m. PT. Your contributions will support Stand Up To Cancer's collaborative cancer research programs and will help get new cancer therapies to patients quickly and save lives now.
xx, The FabFitFun Team
FabFitFun will give 100% of all donations made between October 29, 2020 and January 18, 2021 to Stand Up to Cancer, a [501(c)(3) nonprofit organization].