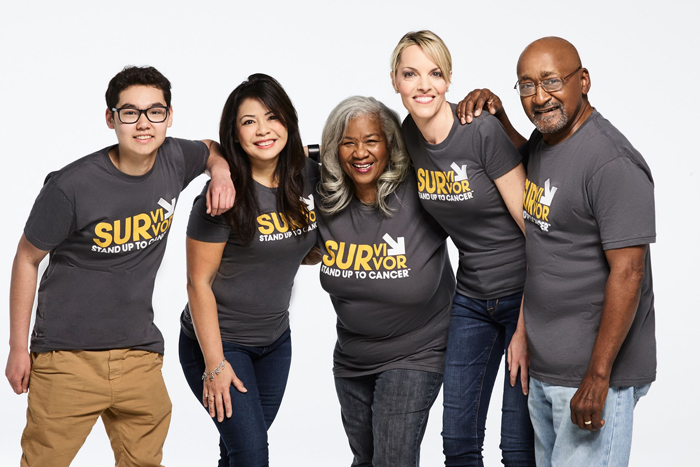 Feature Image by Stand Up To Cancer
We're proud to collaborate with Stand Up To Cancer this winter to raise awareness about how the ongoing pandemic has affected cancer care.
"Research has shown cancer patients are at a 3x higher risk of infection from COVID-19 and as an immunocompromised group, need continued support right now," says Sung Poblete, Ph.D., R.N., CEO of Stand Up To Cancer. "Additionally, many cancer patients have had to change their treatment plans, which can mean having follow-up visits virtually and increasingly attending treatment alone."
Not only that, but communities of color are also disproportionately affected by COVID-19 and underrepresented in cancer research.
"Only 4% of cancer clinical trial participants are Black and 5% are Hispanic, according to FDA data, despite the fact that people of color have the highest mortality rates and shortest survival rates for most cancers," shares Karen Winkfield, M.D., Ph.D., member of the Stand Up To Cancer Health Equity Committee.
That's why SU2C introduced the Health Equity Initiative, to break down systemic barriers in healthcare by making sure everyone has access to the most effective cancer treatments.
So what can we do as a community to help? We should continue to follow local social distancing guidelines, wear a mask in public to slow the spread of the virus and amplify the voices of underserved groups.
You can also donate in our Cyber Monday Sale, which opens to all members on Monday, November 30 at 9 a.m. PT. We're matching donations to Stand Up To Cancer in our Cyber Monday Sale, up to $25,000.* 100% of your donations will support Stand Up To Cancer's collaborative cancer research programs and will help get new cancer therapies to patients quickly and save lives now.
Learn more at StandUpToCancer.org and @su2c.
xx, The FabFitFun Team
*FabFitFun will give 100% of all donations made between November 30, 2020 at 9 a.m. PT and December 2, 2020 at 11:59 p.m. PT in our Cyber Monday Sale to Stand Up To Cancer and will match donations dollar for dollar up to $25,000. Stand Up To Cancer is a division of the Entertainment Industry Foundation, a 501(c)(3) charitable organization. To contact Stand Up To Cancer, click here. Your donation may be tax-deductible, but because taxes are dependent on your individual circumstances, you should check with your tax advisor.