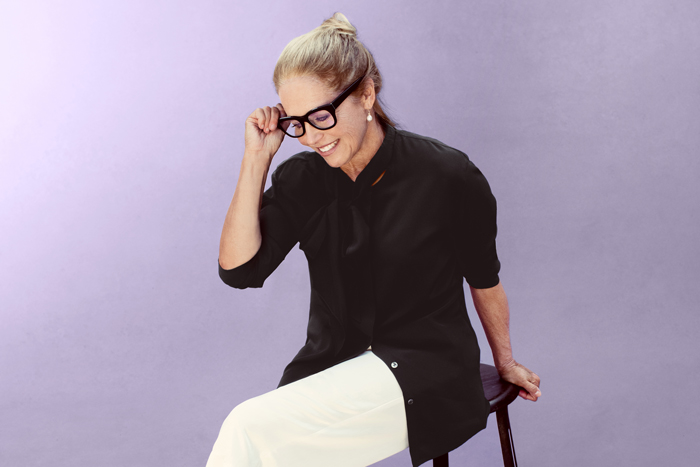 Photographed by Grace Rivera
Whether she's gardening or writing her upcoming memoir, Katie Couric has found meaningful ways to make the most of her time at home. In our exclusive interview, Couric shares why she's shedding light on the untold stories during COVID-19 and how she's been staying optimistic.
It's been quite a challenging year. How have you been adjusting to the new normal?
I've been spending a ton of time going through memory boxes while I write my memoir (which has proven to be a massive undertaking). It's also been really nice to spend some more time with my daughters. All things considered, I feel really lucky compared to so many people who have gotten sick, lost their jobs, or are going through this alone.
What are some other ways you've been staying optimistic?
I try to limit my news intake every day. My morning newsletter, Wake-Up Call is a great way to stay on top of things without being inundated with information (shameless plug, sign up at www.katiecouric.com). I'm also in awe of how people have been so innovative, empathetic, and selfless throughout the pandemic. I interviewed the founder of Love Beyond Walls who put sinks in public places during the pandemic so homeless people could wash their hands. In many ways, this time has brought out the best in people.

Whether you're in the kitchen with Padma Lakshmi or interviewing doctors, what have been some of the most important stories for you to highlight during this time?
On my Instagram, I've been doing a series called "Faces of COVID-19" where I profile people who have died from the coronavirus. I think it's really important to remember that the daily death toll we're seeing is more than just a number — it's hundreds of thousands of people who have unique life stories, families who love them, and ways they left their mark on the world. We end each tribute with "you mattered," because when you simply hear statistics, it's easy to forget that.
Did you pick up any fun hobbies during quarantine?
My daughter Carrie became quite the chef! I enjoyed eating her delicious meals if that counts as a hobby! I've also enjoyed watching my garden grow and cooking with fresh produce right after I pick it. There's nothing like it!
You're the co-founder of Stand Up To Cancer. Can you share how the fight against cancer has shifted amidst COVID-19?
I worry that people are not getting screened or going to their doctors when they have symptoms that need to be checked out. There's also a deeper understanding of something called "the social determinants of health." Underlying conditions like poverty, stress, poor nutrition, access to healthcare, and inadequate housing can increase your risk of not only COVID-19 but a number of cancers as well. The medical community is really waking up to this disturbing realization and beginning to explore how to mitigate these factors. At Stand Up To Cancer, for example, we started the Health Equity Initiative to try to encourage more people of color to take part in clinical trials and devote more research to understanding genetic differences that may impact diagnosis and treatment.
View this post on Instagram

What is one thing you hope our world takes into 2021?
I think the pandemic has given the entire world an attitude adjustment. People have reevaluated their lives and how they want to spend their time. For all the suffering, economic hardship, and division that has emanated from this challenging time, it's also imbued people with a greater sense of purpose and intentionality.
Any New Year's resolutions for 2021?
The same ones I make every year: floss more, write more "thank you" notes, and stop biting my nails.
We're so excited to read your upcoming memoir. What can readers look forward to?
It's been interesting to go back and revisit both the really happy memories as well as some of the darkest days. I loved reminiscing about my childhood and revisiting stories from growing up. I wrote a lot about what it was like to lose my husband Jay to colon cancer when he was just 42 years old and raising two daughters as a single mom. And, in a lot of ways, my story is a look back at women's shifting roles in the workforce over the last 40 years. We've come a long way, but as you'll read in my book, getting there wasn't half the fun.
Any other exciting projects coming up?
We just relaunched our website www.katiecouric.com. We've spent a lot of time creating a home for all of our exciting editorial content, podcasts, digital series, and social videos. We also started a fun section called "Katie's Picks" where I highlight my favorite products and brands.
xx, The FabFitFun Team