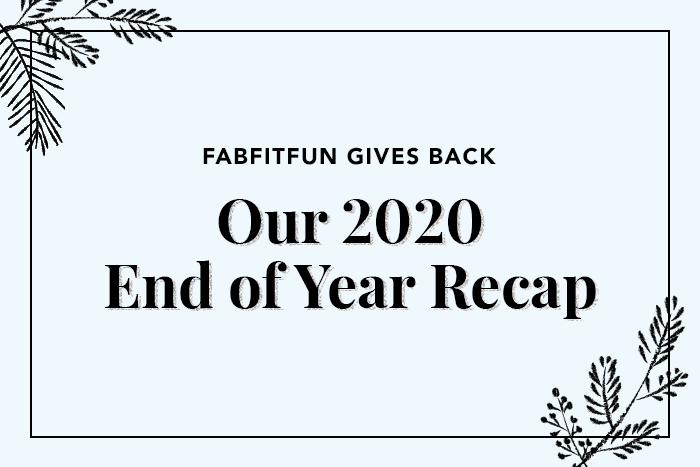 The past year was definitely one for the books. Despite the many ups and downs and rollercoaster of emotions, there's been a silver lining through it all — seeing everyone show up for each other in ways we never have before.
Along with our members' generous donations, we're humbled that we were able to give back in hopes of doing what we know best: delivering happiness and joy. From sending boxes to doctors and teachers to providing meals to children in need, take a look at how we were able to give back this past year.
Together, FabFitFun and our members' donations accomplished so much:
Provided approximately 2,566,110 meals to children in need
In Fall 2020, we raised $256,6100 for No Kid Hungry. One dollar can provide up to 10 meals to kids in need during the pandemic. Learn more at NoKidHungry.org/OneDollar.
Raised $118,367 for Special Olympics
Together, our donation to Special Olympics in Summer 2020 helped support the development of resources for their athletes, including their online fitness tutorials. They were also able to provide than 7,400 at-home fitness kits to support their athletes at home during the pandemic.
Donated 2,000 items of clothing to Dress for Success
In partnership with FabFitFun Style, we donated $30,000 worth of clothing in Spring 2020 to Dress for Success. This included dresses, bottoms, jackets, and woven tops to help women succeed in their personal and professional goals.
Donated 5,000+ boxes to healthcare workers and teachers
Our team donated products valued at over $250,000 in April to doctors and nurses on the frontlines of COVID-19 and teachers during Teacher Appreciation Week. The boxes were filled with self-care and wellness goodies, like a cozy scarf and nourishing skin care products.
Lessened our carbon footprint
We took steps towards becoming more environmentally-friendly by switching to 100% recycled kraft materials and introducing box size variations. Learn more at fff.me/sustainability.
Thank you for helping us find the silver lining in 2020. We can't wait to do more good in 2021!
xx, The FabFitFun Team