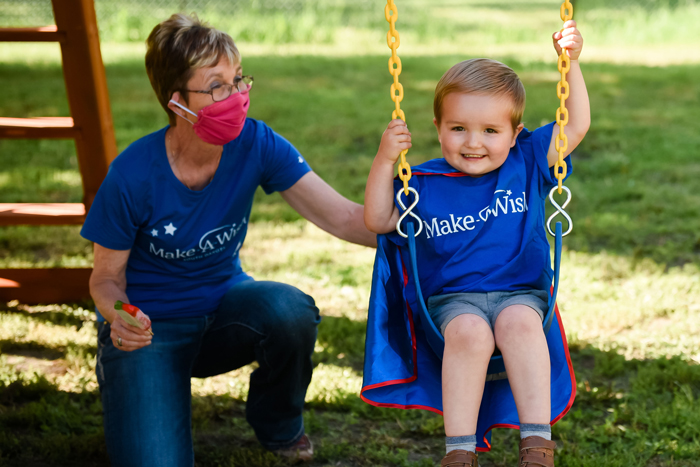 Parker, 3, cancer / Wish: A rainbow playset
In honor of World Wish Day®, we're thrilled to be partnering with Make-A-Wish® to help grant the life-changing wishes of children with critical illnesses.
Despite the ongoing pandemic, Make-A-Wish has been able to bring moments of happiness to more than 15 wish kids every day and has granted more than 500,000 wishes worldwide since 1980!
Meet four inspiring wish kids:
Jade, 7, genetic disorder
Wish: A white fluffy puppy
Jade wanted something that could lift her spirits after her appointments, so she wished for a puppy. She was given a Coton de Tulear puppy, which she named Sky. Now, Jade has a newfound sense of courage with Sky by her side.
---
Lucy, 3, cancer
Wish: A playhouse
After months of cancer treatments, Lucy longed to play outside, so her backyard was transformed into a special playhouse. Her dream playhouse featured a rounded door in her favorite color, purple, and window boxes to plant bright flowers.
---
Kylie, 12, cancer
Wish: A backyard makeover
Kylie had surgery to remove the cancer in her knee and femur and just relearned how to walk about a month ago. She wished for a backyard makeover, so she could safely spend time with family and friends outdoors.
---
Haoran, 7, leukemia
Wish: To be a Marine
After reading a book about the military and their heroic actions, Haoran's wish was to be a Marine. Haoran met with several Marines at Marine Corps Base Camp Pendleton, got to try on military gear, and explored the inside of a tank and military aircraft.
Join us this season in empowering these kids and giving them hope, strength, and joy as they fight their critical illnesses. Your donation will help fund a child's wish journey, whether they've just connected with their wish granter or they're in the days leading up to their wish coming true.
$200 can support a wish kid whose wish is to have a virtual shopping spree
$50 can supply cake and decorations for wish reveals
$20 can provide a wish kid and their family with a photo book to capture the memories of their wish experience
$1 can help fund a wish their family with a photo kid's journey
You can donate in Summer Add-Ons during your Customization window:
Annual Members
Opens on Thursday, May 6 at 9 a.m. PT
Seasonal Members
Opens on Thursday, May 20 at 9 am. PT
xx, The FabFitFun Team
FabFitFun will give 100% of all customer donations made in our sales which are successfully billed between April 29-July 27, 2021 to Make-A-Wish, a 501(c)(3) nonprofit organization. FabFitFun will also match customer donations made to Make-A-Wish in our sales, which are successfully billed between April 29-July 27, 2021, up to $100,000 and shall guarantee a minimum donation of $100,000 (including donation matches). To contact Make-A-Wish call 1-800-722-9474 or visit wish.org. Your donation may be tax-deductible, but because taxes are dependent on your individual circumstances, you should check with your tax adviser.