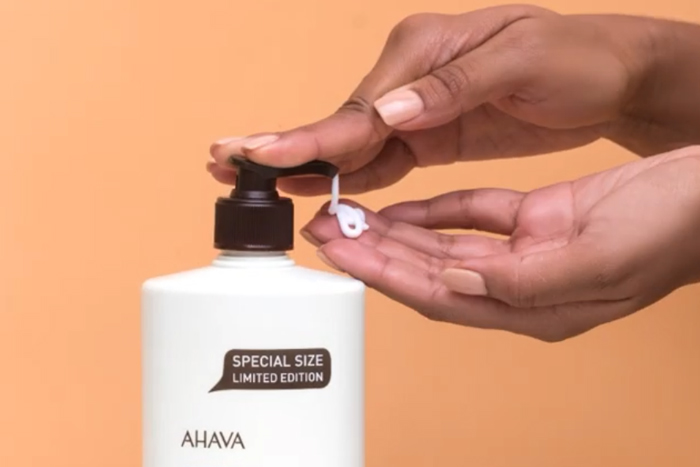 Feature Image by AHAVA
Your shower routine deserves as much TLC as your regimented skin care routine. Remember, your skin goes beyond the neck, so it's crucial to use products that properly hydrate and nourish the skin. After all, the skin is the largest organ on your body — so shouldn't you want to keep it in tiptop shape?
First, try not to shower with water that's too hot. According to experts, hot showers can dry out the skin and make it itchy, especially for those who are prone to eczema.
Second, don't use any old soap. Just as there are harsh cleansers out there, there are also harsh body soaps that can strip your body of its natural oils.
Lastly, never ever skip out on moisturizing your body…because you would never skip out on moisturizer for the face, right? Make sure to nourish your skin every day to combat any dryness and itchiness.
Now that you're up to speed on how to take care of the skin on your body, here are the body care products that will help upgrade your shower routine. These products are featured in reFills at a members-only discounted price. Learn more about the program at fff.me/refills.
Body Wash
As mentioned above, you want to pass on the harsh cleansers and opt for something milder. The picks below feature nourishing, calming ingredients that'll do wonders for the skin.

Spongellé Trio Body Buffers (Eucalyptus Rain, Honey Blossom, Papaya Yuzu) $14.40 $40
A FabFitFun customer-favorite, these body buffers cleanse, exfoliate, and massage the skin from the neck to the feet. Each body buffer offers 14+ uses and has calming extracts of yuzu, edelweiss, and vetiver for a calming shower experience.

AHAVA Mineral Shower Gel $16.20 $42
This gel cleanser features aloe vera extract and skin-smoothing conditioners to gently cleanse and hydrate the skin! It also smells heavenly thanks to the scents of pomegranate and cherry blossom.

Grown Alchemist Body Cleanser $12.60 $44
Another great cleanser that works for all skin types, this gel cleanser refreshes and tones the skin without any dryness. It features ingredients like neroli, rosemary, and tangerine fruit oils to nourish and moisturize the skin.
---
Body Lotion
Seal in all that moisture with an ultra-hydrating body lotion! This is the key to truly combatting itchy skin.

Grown Alchemist Body Cream $21.60 $67
This deeply hydrating lotion features potent bioactive ingredients to restore your skin's elasticity and suppleness. The shea butter and jojoba oil are rich in triglycerides, which will noticeably improve your skin's hydration.

AHAVA Mineral Body Lotion $18.90 $52
If you hate the greasy feeling body lotions leave behind, this one is worth a try. It's an ultra-absorbent cream made with nutrient-rich Dead Sea water that quickly nourishes dry skin.

WHISH Lavender Luminous Body Oil $21.60 $96
Need extra hydration? This body oil features clinically proven peptides that help reduce the appearance of fine lines and wrinkles, while also leaving skin silky smooth and luminous.
You can snag these products in reFills during your Customization window! Click here for more details on when you can access Customization.
Psst! Have you signed up for FabFitFun yet? Don't miss out on seasonal boxes filled with the best products in beauty, fitness, and lifestyle, member-exclusive sales, an amazing Community of like-minded women, and more. Use code CELEBRATE at checkout for 20% off your first box.
To get the most out of your box products, make sure to check out the Members Only page.
xx, The FabFitFun Team