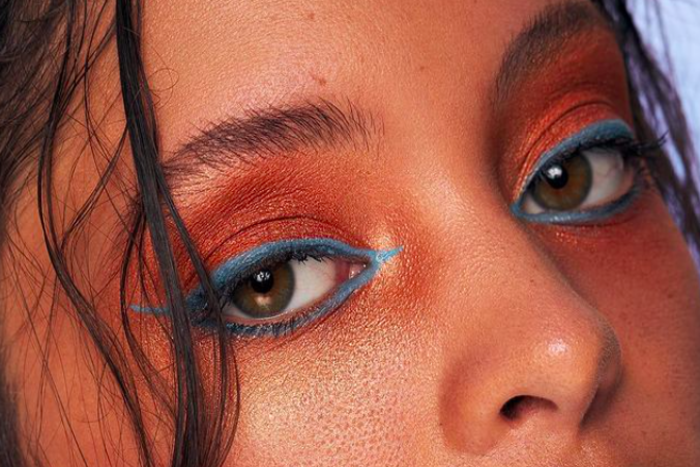 Feature Image by @makeupbymaddiebrice
If your makeup collection hasn't received much love over the past year, chances are, you're not alone. But with summer right around the corner, and more of us getting back out there, it's about that time to refresh your beauty routine and try some new makeup looks.
From floating liners to unexpected shapes and colors, makeup artists talked to FabFitFun about the trends you should try out over the next few months. Here are some of the most gorgeous makeup trends for spring/summer 2021, according to makeup artists.
Unexpected Liner Shapes And Colors
"Because of mask-wearing, we'll continue to see a focus on fun eye looks," Sarah Redzikowski, professional makeup artist and hairstylist, tells FabFitFun. "I am seeing a lot of interesting eyeliner looks, like floating liners, unexpected shapes, and layering multiple colors!"
View this post on Instagram
Unexpected liner shapes like this "loop de loop" done by Redzikowski are fun, pretty, and unique. The best part is, you can flex your creative skills and come up with your own shapes. You can choose to be as subtle or wild with it as you like.
View this post on Instagram

According to Redzikowski, colorful shadows paired with negative space on the lid also make for a "cool and wearable look" that doesn't feel overwhelming.
---
Embellished Eyes
If glitter, sparkles, and jewels are your thing, you have to try an embellished eye look this spring and summer. According to celebrity makeup artist and brand founder, Jenny Patinkin, "We are going to be seeing a lot of embellished eyes this spring, lots of crystals and sparkle on and around the eyes."
View this post on Instagram
You can try a subtle look, like Chrissy Teigen above, who placed a small cluster of gems on the side of the eye. But if you want to go full glam, you can go for something like the look below by Justine Skye.
View this post on Instagram
"While we still have to wear masks, being playful around the eyes is a fun way to express optimism and excitement and to add a little glamour to what's been a pretty somber time," Patinkin says.
---
Glowing Skin with a Pop of Color
"This spring and summer, we're going to see beautiful skin with a pop of color, especially on the eyes," makeup artist Mandie Brice, tells FabFitFun.
The brighter the better, as shown by this look created by Brice. A nice sun-kissed glow and a bright blue graphic liner around the eyes is the perfect look for summer.
Healthy looking skin that glows will continue to be a big trend as nobody wants to look like they've been stuck inside all year, Amanda Stein, makeup artist and lead editor of BeautyMag tells FabFitFun.
"My favorite pick for this look (and what helps me fake a healthier lifestyle than just binging Netflix) is Glossier's Perfecting Skin Tint, but you can also mix your favorite foundation with a moisturizer to thin it out," Stein says. "You'll want to keep your skin ultra-hydrated, and also pile on the highlighter as well; 2021 is our time to shine."
---
Lots of Blush
Clearly, eyes are still going to be a huge focus in the upcoming months. However, Redzikowski says the biggest trend for 2021 is going to be "lots and lots" of blush.
"Put it on the cheeks, orbital bone, or nose," she says. "Use it as eyeshadow and even a little sweep on the forehead and chin!"
Get creative with it! Blending different shades of blush on your lids is a great way to add a pop of color to your look.
Which trend are you most excited to try? Let us know in the comments below!
xx, The FabFitFun Team