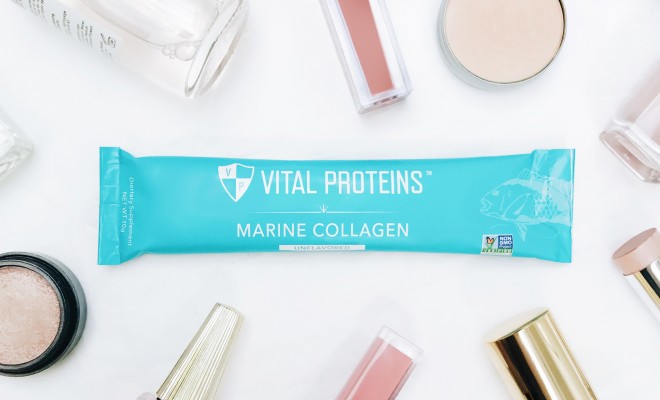 Sponsored by Vital Proteins©
We've heard it time and time again: what you put inside your body is just as important as what you put on the outside. So while you might be investing in high-end serums and regularly pampering yourself with DIY hair masks, adding collagen to your diet and beauty routine can completely switch things up.
But, why exactly? If you didn't know, collagen is the most abundant protein in the body and it's what gives strength and elasticity to our skin, hair, and nails. Plus, adding collagen into your morning coffee, afternoon smoothie, or even in your soup at dinner couldn't be easier — especially with Vital Proteins.
Vital Proteins' Marine Collagen is responsibly and sustainably sourced, non-GMO, gluten-free, and sugar-free. It basically absorbs into anything hot or cold so you can literally sip your way to beautiful skin, hair, and nails. Not only that, it comes in single-serving packets, making it easy to take on-the-go.
So whether your skin is in need of some TLC or your hair is lacking strength, ahead are additional benefits of incorporating this vital protein (we had to) into your everyday beauty routine.
Boosts skin's elasticity
Get the most out of your anti-aging skin care products with your daily intake of collagen. Collagen makes up to 30% of the protein in your entire body and 70% of the protein that makes up your skin. It's also the main component of the dermis, which is responsible for your skin's elasticity and flexibility. As you get older, your dermis produces less collagen resulting in fine lines and wrinkles, so it's important to intake the right amount of collagen for youthful skin. Let's just say collagen is your best bet for turning back the clock on some of those lines!
Promotes hair growth
If you want your hair to be thicker, incorporate collagen into your diet. Collagen is made up of proteins and amino acids including glycine, proline, alanine, and arginine, which are responsible for keeping your hair in check. Glycine helps with stress to improve sleep quality while arginine promotes blood circulation so your hair follicles get the nutrients it needs — thus, promoting hair growth. Hello, luscious locks!
Say goodbye to brittle nails
If growing out your nails isn't an option because of how weak they are, it might be from a lack of collagen production. Your nails are a lot like your hair as the cells form in the root of the nail. One of the most important amino acids for nail growth is arginine, and similar to how it promotes hair growth, arginine produces nitric oxide, a compound that aids in blood circulation to provide an ample amount of nutrients to the root of your nails so it can grow out stronger. With a daily dose of collagen, you can say goodbye to chipped nails for good!
And since we love you so much, every FabFitFun Summer Box includes a single serving packet of Vital Proteins Marine Collagen. Get your box today!
xx, The FabFitFun Team
---
These statements have not been evaluated by the Food and Drug Administration. This product is not intended to diagnose, treat, cure or prevent any disease.