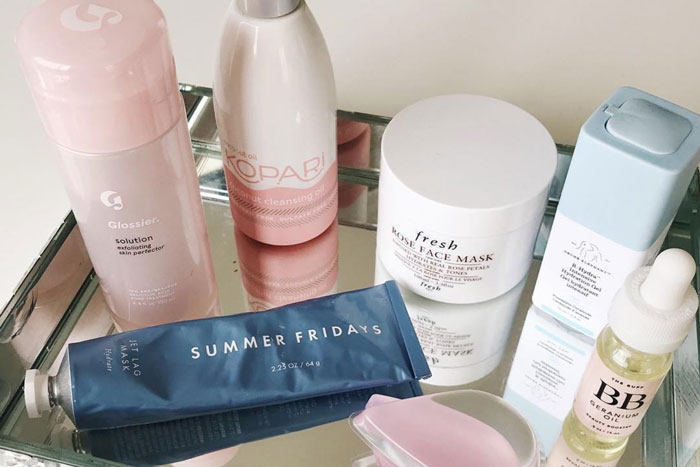 Feature Image by @caybabe
If you look at some of your favorite skin care products, you'll probably notice it has some sort of AHA (alpha hydroxy acid) in it. While the powerhouse ingredient is often used as a chemical exfoliant and is known to clear pores, increase cell turnover, and brighten the skin, not all AHAs are the same.
From glycolic acids to citric acids, here is everything you need to know about the three most common AHAs.
Glycolic acid
This is the most prominent acid on the market and can be found in anything from moisturizers and creams to peels and serums. While it can be used on all skin types, it's especially beneficial for dry, sensitive, or mature skin as it helps treat scars, skin discoloration, fine lines, and wrinkles. If you want to give this acid a try, we love the dr. brandt Do Not Age Moisturizing Neck Cream for its ultra-hydrating blend of glycolic acid, essential amino acids, calcium, and sorghum juice to visibly reduce the appearance of dry, sagging skin.
Lactic acid
The molecular size of lactic acid is smaller in size than glycolic acid, which means it penetrates the skin at a much slower rate, making it more gentle on the skin. It's derived from milk and is incredibly effective at reducing fine lines, improving skin tone and texture, fading pigmentation, and controlling oiliness and breakouts. We recommend the Skyn Iceland Nordic Skin Peel, which features lactic acid derived from corn sugar to exfoliate skin without any irritation.
Citric acid
Like its name, this acid is derived from citrus fruits and is the most astringent choice of the bunch. It's effective at brightening skin, sloughing away dead skin cells, and improving the appearance of age spots, acne scars, small wrinkles, and uneven tone and texture. If your main concern is dullness and pores, try citric acid — particularly the Dermalogica Sound Sleep Cocoon for its ability to reduce signs of skin fatigue.
xx, The FabFitFun Team