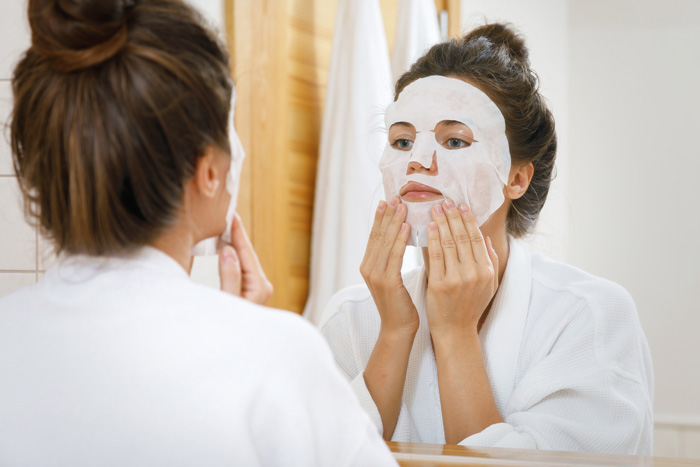 There's no denying that we love a good sheet mask, as these beauty buys work in just 20 minutes (or less!) to help treat a multitude of skin woes. While many traditional sheet masks are infused with skin-boosting serums, dry sheet masks seem to be having a major moment lately.
We spoke to two board-certified dermatologists about how these new innovations could revolutionize your fall skin care regimen. From the benefits to application instructions, we're sharing everything you need to know about the dry sheet mask trend.
What are dry sheet masks?
Sheet masks are usually known to have a wet or slimy texture, but Dr. Debra Jaliman suggests that dry sheet masks tend to be a lot different in comparison. Since these masks are basically waterless versions of traditional sheet masks, she explains that they can be used several times on your face and neck instead of being tossed in the trash immediately after usage. This makes them a cost-effective alternative to some luxury sheet masks on the market. Dr. Anna Guanche also adds, "Since sheet masks aren't wet, they generally stay in place. You can dry your hair (or do other things!) while wearing a dry mask, which is always an added bonus for those who are constantly on the go."
How do you use a dry sheet mask?
Although dry sheet masks skip out on the mess associated with standard sheet masks, Dr. Jaliman suggests that dry masks tend to require more work when applying it to the face. "You should massage (or softly rub) the mask while it's on the skin to help activate the ingredients," she says. "In stark contrast, traditional sheet masks need only to be applied and then left alone." Dr Guanche says that some people can have a difficult time applying them onto the face and neck. However, she notes that most products come with basic how-to-use instructions, which should be followed step-by-step to ensure you apply it properly.
Who should use a dry sheet mask?
Much like regular sheet masks, Dr. Jaliman suggests that dry sheet masks can also be used on all skin types. While these masks may be dry to touch, she explains that they eventually release moisturizing ingredients to your skin. However, Dr. Jaliman stresses the importance of looking at the actual ingredients on your mask before you actually buy it. Some masks may contain heavy facial oils, which can ultimately cause trouble for those with acne-prone or oily skin types.
What kind of dry sheet masks should you try?
While there are many different dry sheet masks to choose from, Dr. Jaliman suggests that the ULTA Instaglow Dry Sheet Mask is a great choice for those looking for an extra burst of hydration. "This budget-friendly dry mask is infused with shea butter, which is an extremely moisturizing ingredient that contains vitamins and fatty acids," she explains. "This mask also contains peptides, which triggers the production of collagen." If you're looking for a dry mask that is a bit more luxurious, Dr. Guanche suggests that the Skin Research Laboratories® Complexion Kit is a product worth investing in. According to Dr. Guanche, this particular dry mask includes stearic acid, which acts as an emollient and protects the skin from water loss, in addition to beneficial ingredients, such as phytonutrients and hydrating olive, soybean, and avocado oils.
xx, The FabFitFun Team