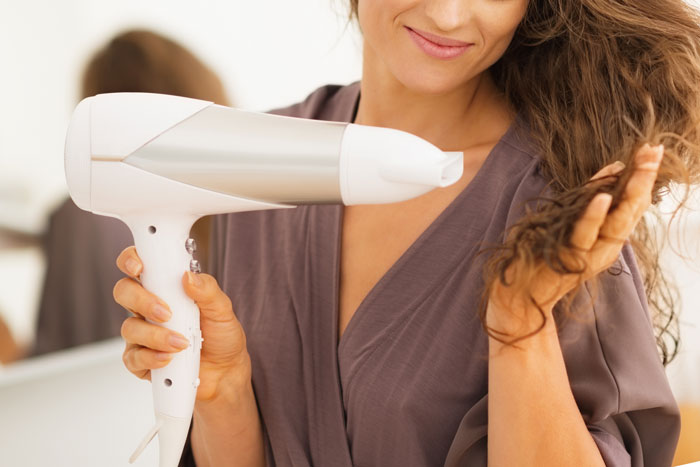 If your hair is naturally on the thinner side, you're not doomed to have a flat-looking 'do forever. Trust us, there are actually easy tricks you can do to make your hair look a lot thicker.
"As a professional hairstylist with thinner hair texture, I'm very familiar with the struggle to create volume," says Jen Fassino, a professional stylist and founder of Nomad Haircare. "After years of experimentation, I've perfected the craft and it all comes down to using the right products with the right tools."
So what are the correct products and tools to make your hair look thicker? Read the expert tips below to find out.
Prep before blow-drying
A common mistake people make when trying to make thin hair look thick is not using a heat protectant before blow-drying. A heat protectant like the Nomad Transcend Serum will help to prevent your already fragile hair from breakage.
Choose volumizing hair products
The products you choose to use before drying can make all the difference. "There are some great products that add volume to hair," Eliut Rivera, founder of Eliut Salon, says. "The keyword here is 'thickening.' These work by adding texture to hair, creating dimension and volume."
Fassino recommends using R+Co Dallas Thickening Spray on the roots only before drying. This will prep the hair for added volume all over.
Blow-dry in the opposite direction
When you blow-dry, you want to flip the hair upside down and blow-dry while using a round brush. According to Fassino, drying your hair in the opposite direction will create lift and volume.
Braid your hair and let it dry naturally
If you don't want to use heat, braiding your hair into several sections and letting it dry naturally is a great way to create volume. "When we remove the braid, we create more texture and that can create more body," says Ivan Rodriguez, BioSilk hairstyling ambassador.
Add a little color to your hair
"A little color can be added to the scalp and make roots look thicker," Rivera says. Highlights can also add dimension to your hair, making it appear thicker.
Avoid dry shampoos
Dry shampoos have seemingly grown in popularity over the years. But if you have thinner hair, you may want to avoid it. According to Rivera, dry shampoos can end up leaving your hair flat and brittle.
Skip the extra moisturizing products
Extra moisturizing or hair repairing shampoos, conditioners, and masks should also be avoided. According to Rodriguez, these products usually contain too much protein load and oils that will only add weight to your hair.
Don't part your hair in the middle
"Thin hair often coincides with wide parting, which can look even more severe when parting in the middle," says Dr. Dominic Burg, a hair expert with évolis Professional. Instead, try opting for a side or uneven part. It doesn't have to be perfect either. As Burg says, "A little tousle of the hair goes a long way."
Go short and play with layers
Long hair is heavy and can contribute to a thin and lifeless look. So you may want to go for a shorter, above-the-shoulder style to show your natural texture. According to Burg, "Bobs and shorter styles allow for the hair to always appear freshly cut and healthy, which is very important with fine hair."
xx, The FabFitFun Team