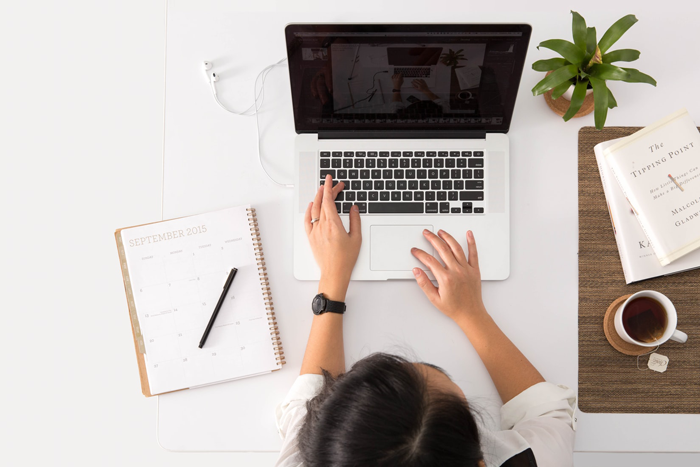 Feature Image by Avel Chuklanov
So you've gone through your April reading list in the first week and you're ready to learn something new. Maybe you've been wanting to learn a new language or dive deeper into Google Analytics for a while? Whatever it is that brings you here, we know that social distancing puts you in the best position for hunkering down and learning a new skill – and we've got a roster of websites that will support you on your inquisitive journey.
If you want to learn a new language…try Rosetta Stone
Imagine this. You go to your favorite Italian restaurant once this is all over and your repertoire has gone from vino and grazie to something like, per favore, passe il pane? Rosetta Stone is your essential hub for upping your language game. Brush up on your Mandarin in the morning and polish up your Polish in the evening. You can start a 7-day free trial to see just how committed you are, and students are completely free. If you're home with the kiddos or are a student yourself, this could be the perfect site to keep you engaged while staying at home.
If you want to start meditating…try FabFitFunTV
Are you feeling anxious or overwhelmed? You can give meditation a try with videos from FabFitFunTV. From learning how to set intentions to breathing techniques, there are a handful of meditation videos to help you start your day with more clarity, peace, and focus.
If you want to learn how to bake, sew, and more…try Udemy 
Gather your pins, scissors, and thread for a sewing 101 class on Udemy. If you'd rather take it to the kitchen, there's a class for that too. This class is entirely crafted around making real artisan bread, and it's only $24.99. If those don't pique your interest, maybe this one will. On Udemy, you can learn just how to tidy up your home using the KonMari method. No matter what hobby or skill you're wanting to get lost in, you can lean on Udemy to help get you started.
If you want to brush up on technical skills…try LinkedIn Learning
If you're eager to enhance your professional expertise, LinkedIn Learning has quite the stockpile of skills for you to master. Become a pro at Google Analytics or project management. If you've always been confused by spreadsheets, this is the perfect digital space for solving that problem. The first month is free so why not?
If you want to learn graphic design, web development, or even mixology…try Skillshare
Show off your mixology skills at your next dinner party (post-social distancing) when you learn how to craft a tasty cocktail with a premium membership on Skillshare. If you're trying to relive those glorious Myspace HTML days, entertain a lesson on HTML5 and JavaScript Programming from scratch. If you've done as we have and gone through all the photos of you and your loved ones on your phone, why not get creative with them in Photoshop? You can take an Adobe Photoshop CC-Essentials Training Course with a premium membership.
If you want to pick up your instrument again…try Fender
Do you have a pretty cool instrument that's just collecting dust in the corner of your room? If so, head to Fender to make use of that pretty little thing. Their 'How-To' section is packed with tips and tricks for playing that perfect tune. Learn the essential guitar scales for beginners or skip ahead and learn the 40 best songs. You can become the blues player you always dreamed of being or play catchy tunes on the Ukulele. All of these tips are free so spend a few hours of your day serenading your quarantine buddies.
If you want to learn new cooking skills (or bake sourdough bread)…try The Kitchn
We don't know about you, but we have seen one too many sourdough loaves on our Instagram feeds as of late. Instead of wondering just how that's done, you can try it yourself – and so much more – with The Kitchn. Under their "learn" tab, you will have access to organizational tips for your kitchen, cooking tips, cooking school practices like how to actually crack an egg, and so much more. We recommend combing through their many recipes and tips and trying at least one — if not all of them.
If you simply want to learn…try Coursera
If you've ever considered going back to school or regret not taking that one really cool class, now is your chance. Coursera offers up a world where you can virtually step into a university's classroom – like, Princeton – and learn from courses including Imagining Other Earths, Algorithms Part I and II, and Effective Altruism. You can take your knowledge to the next level when you join this site for free.
Do you have something you've been eager to learn about? Tell us in the comments below!
xx The FabFitFun Team