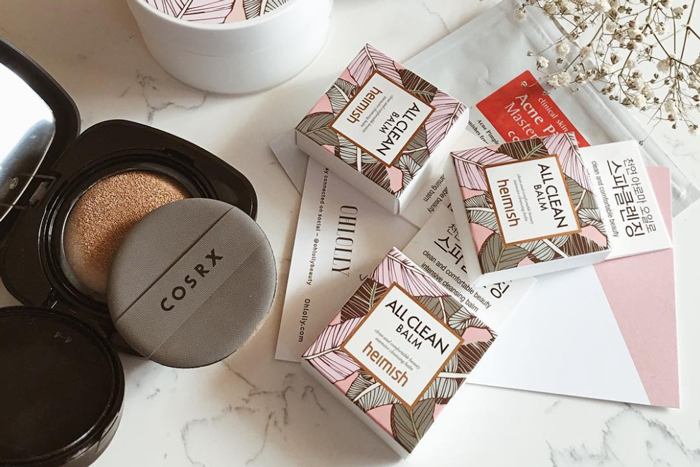 Korean beauty has been having a moment in the U.S. — and it's still going strong. What once was a niche market has now piqued the interest of many American beauty fanatics thanks to its tedious yet luxurious 10-step skin care routine.
While the collection of different products might be a lot for the average "cleanser, moisturizer, and done" kind of girl, after looking at all these fun, funky products and the flawless complexions of many Korean women, upgrading your beauty routine doesn't seem too excessive.
Even if you don't stick to the 10-step routine, you can still implement K-beauty products into your everyday routine, whether you switch our your basic toners with essence mists or liquid foundations with cushion compacts.
Here are our favorite places to shop for K-beauty:
Peach & Lily

This site encompasses all the fun and playful elements that embody Korean beauty. Their shop features high-quality K-beauty products (including the Peach and Lily brand) in addition to brands that highlight the latest in K-beauty trends and innovation. Every item is curated and hand selected by founder, Alicia Yoon, who travels to Korea to find the best of the best like the new cult favorite beauty line, Saturday Skin, to classic brands like Laneige.
---

Soko Glam
Founded by esthetician, Charlotte Cho, Soko Glam is the ultimate K-beauty destination. Here you'll find an incredible range of products, from skin care to hair care to makeup (it even features product recommendations for each step in the 10-step routine), and an abundance of information on their Klog, which thoroughly explains various K-beauty products and shares insider tips and tricks. If you want to try the best of the best, take a look at their Best of Korean Beauty award-winning products and start your search there.
---

CVS
It's true, you can shop for authentic Korean beauty products at your local CVS (or CVS online!). If you're looking to dabble in the latest K-beauty trends like the bubble mask and acne patches, start your search here!
---

Ohlolly
If you love gorgeous aesthetics, you'll be all sorts of heart eyes over Ohlolly. The website is crisp, clean, and cool and the founders, Sue and Herra, purposefully seek products that are natural, plant-based, and packed with unique ingredients. When you shop through their site, it's like shopping with a BFF who knows everything about K-beauty. Plus, all their products are totally Insta-worthy and will instantly add some glamour to your vanity.
---

YesStyle
An online retailer for Asian fashion, lifestyle, beauty, and everything else — it's like your Korean Forever 21! They have over 22,000 beauty products from South Korea alone, making it the most vast of the websites listed above. If you're a beauty aficionado and love to try new products, no matter how wild or crazy, this is your Korean beauty heaven.
xx, The FabFitFun Team