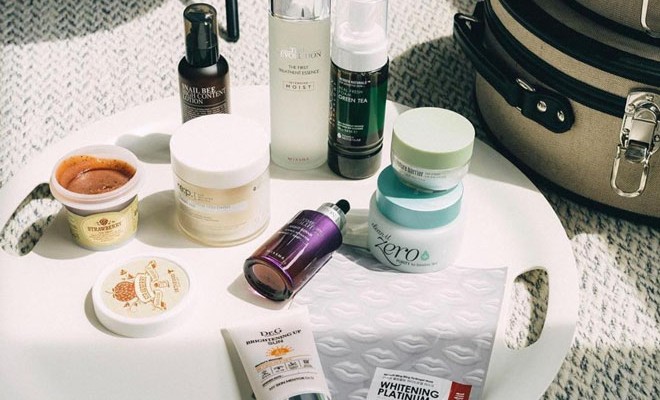 @sokoglam
Dewy skin is still very much on trend — so instead of rushing through cleanser and moisturizer, why not follow suit on the popular 10-step skin care routine for that highly coveted glow?
10 products may seem like a lot of serums and creams (and unnecessary time spent applying everything onto your face), but trust us when we say your skin will look gorgeous.
Ahead, we've broken down the 10-step skin care routine and highlighted some of our fave products to try with each step.
Step 1: Oil-Based Cleanser
Before you think about skipping this step because you have oily skin, you should know that an oil-based cleanser is safe to use on all skin types. The oil is meant to break down the hard-to-remove makeup like your mascara, eyeliner, and lipstick. Get a pea-sized amount of oil cleanser and massage it onto dry skin. If you have large pores, we suggest removing the oil with a soft towel — otherwise, rinse with lukewarm water. Check out the Bobbi Brown Soothing Cleansing Oil for a gentle and nourishing cleanse. It's formulated with flower extract and botanical oils that will dissolve surface impurities without stripping your skin of its natural oils.
---
Step 2: Water-Based Cleanser
Now that you've removed the majority of your makeup, make a clean sweep by using a water-based cleanser to make sure you've removed any impurities your oil cleanser might've missed. A clean base allows the rest of your skin care products to give maximum results. We love using the Cetaphil Daily Facial Cleanser for its non-irritating formula that leaves our face feeling clean and moisturized.
---
Step 3: Exfoliator
This step shouldn't be repeated daily, but it's important to exfoliate at least two to three times a week — gauge how your skin is looking and feeling to determine when you want to exfoliate. We recommend the By Terry Dual Exfoliation Scrub because it's both a chemical and physical exfoliant that will buff away all the dead skin cells. The gel formula is enriched with white rose, leaving your face more radiant than before.
---
Step 4: Toner
Toner should be the first product applied to your skin. Douse a soft cotton pad with toner and sweep it onto the skin to adjust the pH levels. You can also think of this as the third step in your cleansing routine, as toner will pick up any remaining residue on your skin. Try the Bioderma Hydrabio Toner for a toner that won't leave your face feeling tight.
---
Step 5: Essence
Essence is essentially a highly concentrated formula with a similar runny consistency as your toner. While it may seem like it's an unnecessary step, anyone obsessed with the 10-step skin care routine can vouch that it's one of the most effective steps in the whole routine. Instead of using a cotton pad, pour a little into the palm of your hand so none of the product goes to waste. We love the Kiehl's Iris Extract Activating Treatment Essence for its anti-aging benefits and the lip hydroxy acid that activates the skin's natural exfoliation process for soft, even skin.
---
Step 6: Serum
Think of serums as an even higher concentrated version of your essence. Because of its rich formula, it's often recommended to mix serums with your moisturizer if you have sensitive skin. When selecting a serum, think about any skin concerns you have — from wrinkles and blemishes to dryness and hyperpigmentation, there's a serum for every concern. If you have blemish-prone skin, check out the Glossier Super Pure Serum. It features niacinamide and zinc to visibly soothe redness and help calm blemishes.
---
Step 7: Sheet Masks
By now, you're no stranger to sheet masks. If you're not, they're basically an indulgent way to boost your skin. This is another step that doesn't have to be in your daily routine, but is safe to do consistently if you please. Check out the Dr. Jart+ Water Replenishment Cotton Sheet Mask for an ultra-hydrating mask that will leave your skin feeling plumper than ever.
---
Step 8: Eye Cream
Don't neglect the super delicate skin around your eyes. Gently apply the eye cream not only under your eyes, but also around it and on your lids (because they get wrinkly, too!). We recommend the Algenist Complete Eye Renewal Balm, as it features vitamin C, caffeine, cucumber, aloe, and green tea extracts — all the ingredients to depuff your eyes and combat fine lines.
---
Step 9: Moisturizer
It's time to lock in all of your hard work with a moisturizer. Fans of the 10-step routine like to swap out their moisturizers depending on the season — lighter formulas in the summer, and heavier varieties in the winter. If that seems like too much of a hassle, we enjoy the The Ordinary Natural Moisturizing Factors + Hyaluronic Acid because it's a non-greasy formula that you can use year-round. The hyaluronic acid helps your skin retain as much moisture as possible so you're left with hydrated skin even during the colder months.
---
Step 10: Sunscreen
The last step in your skin care routine should only be applied in the morning. We can't stress enough the importance of SPF as it protects your skin from the sun's harsh rays, thus minimizing hyperpigmentation, fine lines, and other skin concerns. Choose a sunscreen that has an SPF of at least 30 like the Shiseido Urban Environment Oil-Free UV Protector. It has an SPF of 42 and a milky consistency that absorbs into the skin without leaving a greasy finish.
xx, The FabFitFun Team