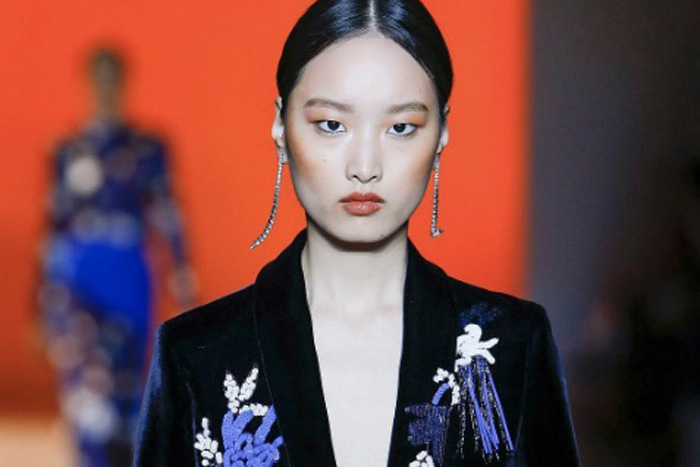 Feature Image by @cushnie
Ever since New York Fashion Week started last week, we've been gawking at the show-stopping beauty looks. From unapologetically bold lips to art-worthy lids, this year's NYFW left us with no shortage of inspiration to tap into over the next few months.
So get ready to channel your inner makeup guru and check out some of the coolest NYFW beauty trends below.
View this post on Instagram
Eyelashes for Days
Twiggy's signature look…but make it 2019. Over-the-top, doe-like lashes are taking center stage, so stock up on your favorite mascaras and falsies.
---
View this post on Instagram
Monochromatic Makeup
This cohesive look manages to radiate warmth and dimension without trying too hard. Lipstick as a glossy shadow? Sure. Tinted shadow applied to cheekbones? Yep. Embrace the simplicity of this trend and let yourself experiment with the possibilities.
---
View this post on Instagram
Cross the Line
Life's too short for boring eyeliner – at least, that's the message we got during NYFW. Makeup artists opted for bold, graphic stripes across models' lids, and while these playful styles might not scream "everyday, go-to look," it's easy enough to execute when you're feeling adventurous.
---
View this post on Instagram
Merlot Mouth
Wine-stained lips are as classic as it is versatile, so it's no surprise that this quintessential fall pout got plenty of runway time. Makeup artists ditched the lip liner and focused on layering and blotting, creating an updated, diffused look. A little edgy, a little effortless, and very DIY-friendly.
---
View this post on Instagram
Smoky Eyes
The predictable trend was given an unexpected upgrade by designers like Tom Ford and LaQuan Smith. They blended moody shades of mauve, pink, and gold, then topped it with eye gloss for a more glistening version of the classic look.
---
View this post on Instagram
Neon Eyelids
The idea of neon eyeshadow might seem a little jarring, especially when encountered in cold-weather months, but NYFW runways were inundated with the unique shade. Whether you opt for a highlighter-inspired neon look or play it safe with something a bit warmer, makeup artists at Kate Spade and Chromat definitely challenged us to reconsider this playful trend.
---
View this post on Instagram
Far Out
Tie-dye-inspired eye makeup? Our inner hippie strongly approves. Lots of shows this year featured a "draw outside the lines" approach to shadow and liner application, but one standout look was this uniquely smudged variety at Collina Strada, featuring abstract neon shades.
Feeling bold enough to attempt any of these beauty trends? Let us know in the comments below!
xx, The FabFitFun Team