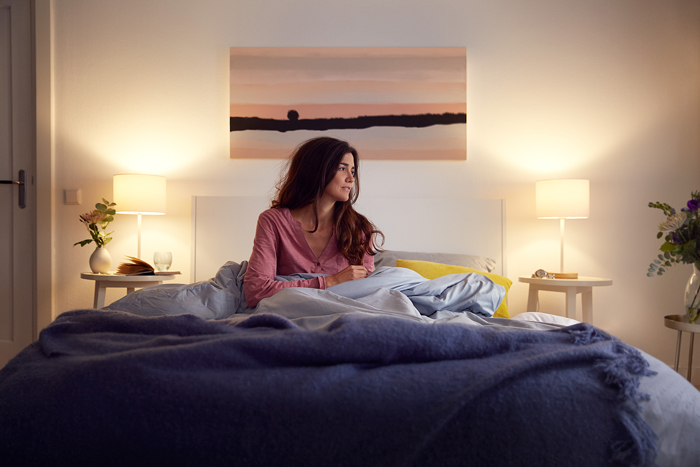 SPONSORED BY PHILIPS LIGHTING
You do your best to exercise three times a week, eat healthy (minus the cookie slip every now and then), and sleep eight hours every night — but does it feel like you could be doing more?
Well, beyond fitness and diet, you should know that your environment can impact your mood and mental health. So start by making changes in your home with the tips below.
Here are three ways you can switch up the scenery to improve your wellness.
Get your lighting right
Believe it or not, lighting has a huge effect on your overall well-being and can play a role in enhancing your everyday life. So incorporate your preferred lighting throughout your home to match any mood — whether you like soft white lighting during a dinner with friends, daylight before you head out for the evening, or a warm glow for a cozy movie night in. If you want the option to switch through different kinds of light, the Philips SceneSwitch LED light bulb includes all three light settings — helping you create any mood for different moments in life. Plus, all you need is your existing switch to flip through the settings; no installation required!
Add natural elements
Incorporating nature elements into your home, like plants, flowers, and rocks, will not only help you connect with the outdoors, but studies also show that nature helps reduce stress and boost health. Craving greenery? Incorporate potted plants throughout your home. Loving the outdoorsy vibes? Switch out any man-made home décor with wood elements. You can also use stones to give your room an earthy touch – whether you place a terrarium on your dining table or style stones as décor in your bathroom.
Stick to shades of blue and green
You've likely incorporated shades of green throughout your home with plants, but you should also consider implementing shades of blue — whether it be curtains, pillows, flowers, chandeliers, or simply painting your walls blue. Not only is blue a timeless, classic shade, it can also help a room shine its brightest and naturally draw out light from darker rooms. Plus, blue is known to help lower blood pressure and neutralize melatonin levels, making it refreshing in the morning and soothing at night.
So what are you waiting for? It's time to revamp your home. Click here to learn more about the Philips SceneSwitch LED light bulb. Get 25% off your purchase of a 4-pack of the SceneSwitch LED light bulb HERE with the code 25FFFPHILIPS.*
xx, The FabFitFun Team
---
* Offer applies to the 4-pack of the Philips SceneSwitch LED A19 bulb. Offer valid November 10, 2017 – December 31, 2017. Redeem offer at Amazon.com.