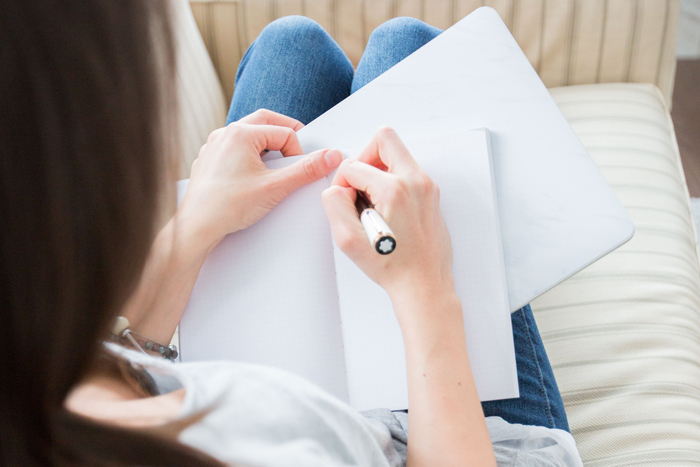 Feature Image by Ana Tavares
Self-care and self-love seem to be at the top of everyone's resolutions list this year (because "new year, new you," right?). But like with most resolutions, it's easy to fall off track as the year trucks along.
The secret to staying on top of your resolutions? To make smaller, more achievable goals you can work toward all year long – and to help you get started, we're sharing six totally doable wellness goals below.
Build a relationship with your emotions
It's time to let go of the pressure to look perfect and focus on the inner work it takes to heal from the inside out. "No diet or workout can heal the emotional reasons you put on weight in the first place, only inner work can do that," says Steph Hendel, an emotional eating expert and weight loss coach. Creating a healthy relationship with your emotions and yourself from within makes it easier to maintain a natural fit and healthy body you love.
Find the fun in fitness
This year, find ways to get fit that are fun to you. If you're not excited about working out, then you won't do it (at least not effectively). So whether it's taking a dance class, hiking with a friend, or running while listening to your favorite podcast, let this be the year that you finally get enjoyment from exercise. You'll find it easier to be consistent and you'll be amazed at what exercising from a place of joy can do for your body.
Live by "and" not "or"
This means that you can have burgers and great abs, not burgers or great abs. "Eat the organic burger with bacon and live your best life," Hendel says. "Vow to never force yourself to do anything you don't want to do to lose weight or change your body. It's an outdated belief and it's just not necessary. There are two big things that repel weight loss: pressure and restriction. When you put too much pressure on food choices and workouts, you repel your body from changing. It's stressful, and if it's not something you like, you won't make it a habit. When you remove the pressure, you'll find yourself naturally motivated to make healthier choices."
Meditate
Make a commitment to meditate. If you're new to meditating, download one of the many stress-managing apps to help you quiet your mind and zen out. Not to mention, meditation studios are popping up all over the place. If you're worried that you're someone who can't sit still long enough to meditate, try a moving meditation practice instead.
Love the one you're with (you!)
"Self-love and self-worth are #goals," says Hendel. "You're born with self-love and self-worth — it's natural, but you grow up programmed to pick yourself apart until you don't feel good enough. After years of living like that, it feels normal to not like how you look and who you are." Taking steps toward self-love doesn't always have to involve an extravagant massage or face mask. Try taking a 10-minute walk outside, watch a YouTube video of someone who inspires you, or call your bestie when you need reassurance. Pro-tip: schedule a non-negotiable block of time for yourself to spend on self-care and self-love each day and stick to it.
Monitor your mindset
Commit to doing your best to stop all the negative self-talk because your thoughts and your words become your reality. Spend time observing how you talk to yourself when you look in the mirror, when you eat, when you're at work, and when you're stressed. Then, work on flipping those negative thoughts into positive, loving affirmations by focusing on appreciation for every part of your body and self. Shift your mindset and watch your life shift right along with it!
Need quick and healthy meal options? Check out nine meal prep recipes even the laziest people will love.
xx, The FabFitFun Team