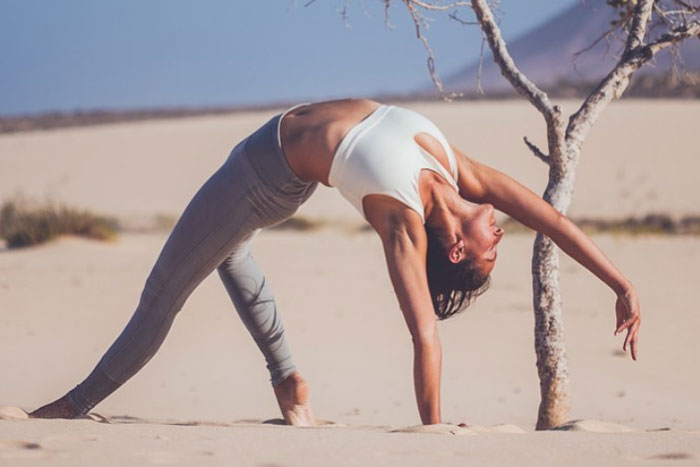 Feature Image by @ayogakindalife
Yoga has been around for over 5,000 years, so seeing that it's rooted in tradition, it's hard for a move to feel new or innovative. However, since 1975, there has been an influx in the sheer number of poses perhaps because people are inspired by the fitness craze sweeping the world or maybe due to the accessibility of yogis on Instagram.
Nonetheless, June 21 marks National Yoga Day, so we're sharing five unique yoga poses for you to try below.
View this post on Instagram
Wild Thing
Some yogis call this one Flip Your Dog. It's an awesome way to open your heart while balancing on your arms and focusing on your backbend. Like its name, we feel wild and free when we choose this option.
---
View this post on Instagram
Humble Flamingo Pose
Be sure and warm up your hip flexors before attempting this bird-like move. Like a flamingo stands on one leg, you'll do one leg at a time for a deep hamstring stretch.
---
View this post on Instagram
Fish Pose
Opening your heart and feeling the strength of your body grounding itself is a great move after plow pose and before the relaxing finish of your practice. Forewarning — this move may look easy, but it will get you!
---
View this post on Instagram
Warrior III
We all know the traditional warrior pose and how challenging it can be sometimes to simply balance. Well, if you're ready to take your practice to the next level, add in a standing crunch while balancing on one leg!
---
View this post on Instagram
Cat-Cow
Most beginners know how to do the cat-cow pose, but have you ever crossed your legs while doing it? When you do, you release tension in the hips and lower back. We bet you'll never look at the pose the same.
xx, The FabFitFun Team
P.S. Ready to flow? Head to FabFitFunTV for exclusive videos. If you're not a member yet, sign up today!