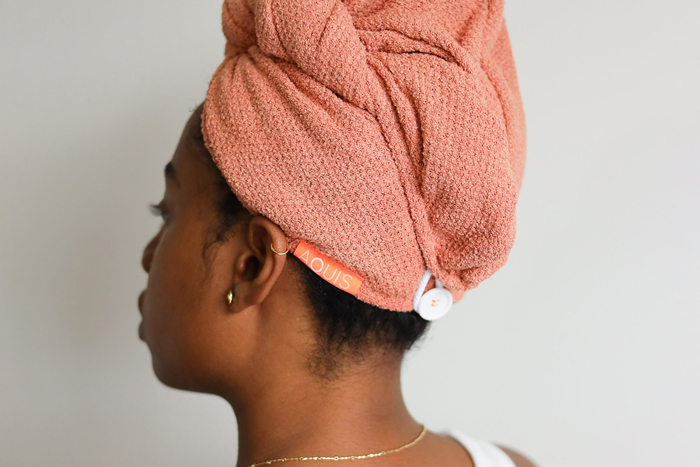 Feature Image by AQUIS
Philip B., the founder of Philip Botanical Haircare, wants you to know that your hair absorbs a lot. "In essence, your hair is a giant collector. Everything that we eat, drink, smoke, and breathe shows up in our hair [while] the hair fiber itself is highly porous."
As such, he considers the pending summer season to be the ideal time for a hair and scalp reboot. Just as dryer brushes changed the hairstyling game forever, these 10 hair care tips will lavish your strands in hydration and health.
Try a botanical oil treatment
"Overall, for any type of hair and every scalp, the absolute best way to amp up your hair care routine is with a botanical oil treatment… [It] helps to dissolve any wax or sebum on your scalp, plumping, lifting, and strengthening each strand." Apply it, heat it up with a blow dryer, and then leave it in for 20 minutes. Hint: Hair oils are also fantastic to apply to the hair's wet ends after each wash and condition.
---
Give your strands a deep cleanse
Follow up the oil treatment with a deep cleanser. Celebrity hairstylist Brant Mayfield of Chris McMillan Salon explains the featured product, "It acts like a magnet to draw out chlorine as well as minerals and metals. It instantly brightens your hair and leaves it soft to the touch. [Plus,] it's a must-have for anyone living in a city with hard water which causes brassiness, dryness, and breakage."
---
Show some love to your scalp
"Think of your scalp as a flower bed from which your hair grows," says Jamila Powell, founder of Naturally Drenched and owner of Maggie Rose Salon. "If we use poor soil with bad products, the flowers planted won't be able to grow." That's why a product that tends to the scalp's microbiome as the source of its overall health is clutch, like this pre-conditioning treatment.
---
Protect your strands with a hair towel
Not only does this antimicrobial, antibacterial, and mold-resistant towel wick away moisture from your hair, but it helps prevent frizz, split ends, and flyaways. "After I wash and dry my hair, I always grab my AQUIS hair towel," says celebrity hairstylist Jessica Elbaum. "It dries your hair [gently] and in half the time."
---
Try a hair balm to combat dryness
Because the summer can be drying, consider investing in a hair balm for a once- or a twice-weekly dose of nourishment. "This balm has changed my hair and is truly a miracle product," Elbaum says. "It makes my hair so smooth but not heavy, and repairs split ends." If your hair is dry and brittle, she recommends using it twice per week; but if you're looking for preventative treatment, a single treatment should be fine.
---
Invest in a high-quality hairbrush
Celebrity hairstylist Avian King is all about the merits of owning a great hairbrush. "Invest in a Mason Pearson brush," she says. "If you take care of it, you will own it for years." Regular brushing helps to stimulate the scalp and distribute the natural oils throughout the strands, which is key for long-term health.
---
Reduce stress to prevent hair loss
If you're worried about hair thinning or loss, try to stress less! King also recommends minimizing your washes. After washing, a targeted scalp spray can help to address the problem at the root. Even if your hair isn't thinning, you will notice yourself shedding less.
---
Take hair supplements

The right hair supplement can make all the difference when trying to thicken your head of hair, promote growth, and even prevent hair loss. Finding the right formula, however, is the hard part. Philip B. and naturopathic doctor Nadia Musavvir both recommend this blend for thicker, longer locks.
---
Air-dry your hair more often
Giving strands a break in between blow-dries is a great way to minimize damage. If air drying has been a challenge for you in the past, this product can help with the process. The pH-balanced formula helps you achieve a styled look sans effort, with the perfect, soft texture you'll want to wear all summer long.
---
If you've got curls, get a diffuser
Philip B. also recommends picking up a diffuser for your blow dryer, especially if you've got curly hair. Because heat can be damaging to dry or brittle locks, dispersing the hot hair can make all the difference in bringing the bounce back to your 'do. And if you need a priming source of thermal protectant that is also great for curly hair, check out IGK Good Behavior 4-in-1 Prep Spray.
xx, The FabFitFun Team