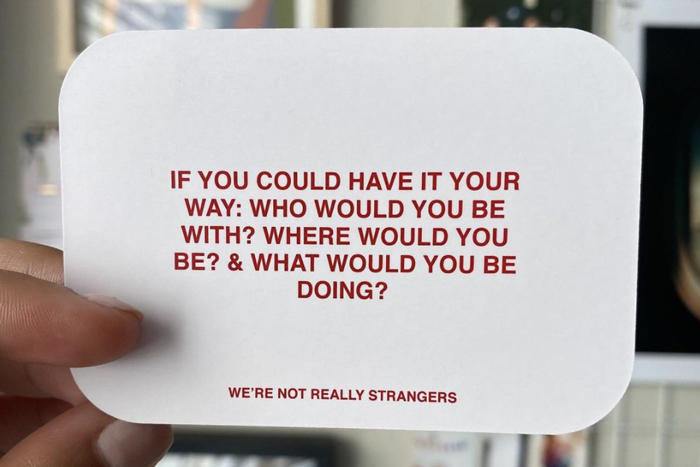 Feature Image by @ari.daybyday
Get ready for a new kind of game night. Find out things you never knew about your friends, family, or significant other when you break out these card games and board games that are all about starting meaningful conversations and getting to know each other better.
Choose your favorite game (or two) and let the fun begin.
If you're looking for a new idea for your next date night, spend the evening with the Chakra game. As you move around the board, the spaces direct you to ask questions based on the Chakra you've landed on.
---
This game takes the Danish trend of wellbeing to a whole new level. Cards have three questions of hygge-based questions that will bring up intriguing answers, good feelings, and cozy conversations.
---
If you're bringing a group together of friends who don't really know each other, this is the game to bring to the party. Made for two to six players, this game has a variety of questions for the players to answer, allowing for insights and revelations about everyone.
---
This version of ladies' night is all about connecting and enjoying each other's company. With questions on everything from sexy time to hilarious hijinks, you'll definitely learn something new about your friends.
---
This deck of cards is more than just a question-and-answer game. In addition to question cards, some cards allow you to flip a question back on the asker and other cards require everyone in the game to answer. Interesting conversations are just a few cards away.
---
Think about your answer too long and you'll lose the game. Participants have to respond to prompts with the first thing that comes to mind so you're guaranteed some pretty interesting and funny answers.
---
How well do you know famous quotes? While you try and figure out who said what, you'll also spark conversation about some of the most well-known quotes in pop culture, movies, sports, and literature.
---
It's your dating game that matters here. Players will create a perfect date while one player will add a card that turns it into a horrible date. You'll soon find out what really makes a red flag for your friends.
---
If you've ever wanted to really know what your friends think of you, this is the game you need to play. Participants are given a scenario and have to point at the person they think best fits the prompt. Will you all agree or will there be some lively debates?
---
How well do you know your friends and family? If you guess how they answered each prompt, you get to move forward on the board. Chances are, you'll learn something new about your fellow players.
xx, The FabFitFun Team