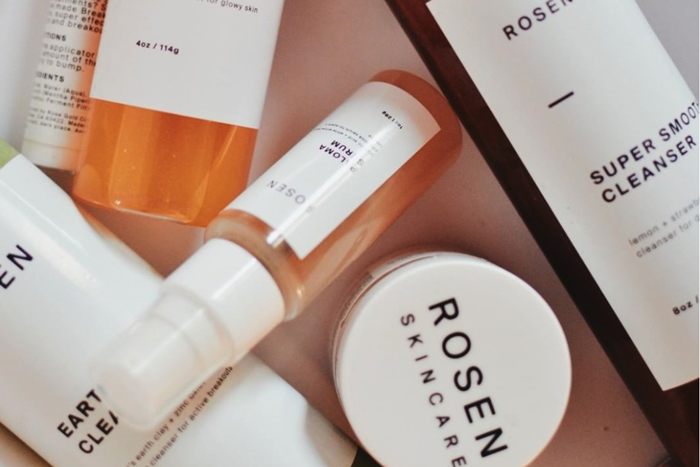 Feature Image by @rosenskincare
There are some big things happening in skin care — and the brains behind these beauty brands are just getting started. We're calling roll for some of the black-owned skin care brands that are currently taking up space on our shelves.
Adult acne is totally normal — but finding a treatment that actually works seems to be a task in itself. That's why we love Rosen. This clean brand wants you to be confident, comfortable, and happy with yourself and the skin you have. Say so long to your heavy moisturizer and try out this Rose Water Face Dew, helping your skin to glow and breathe as it should. And to keep you grounded? An Earth Cleanser made with Fuller's Earth clay, zinc oxide, and eucalyptus oil — each full of anti-bacterial and astringent properties to fight bumps.
---
What we love about Kaike (yes, like cake) is that they think skin should be celebrated as is — just enhanced with good products. Kaike offers kitchen-inspired skin care products for melanin-rich skin like Frosting, a hair and body butter infused with mango butter, coconut oil, vanilla, and apricot kernel oil to help moisturize and provide lasting hydration. Other must-have products include the Marshmallow Clay Mask + Scrub, Melt Oil Cleanser, Lip Frosting, and Chocolate Clay Mask + Scrub.
---
Limegreen products are full of love and are actually created to provide multi-use solutions. Inspired by one grandmother, a little bit of baking soda, and a dash of vinegar, they realized that you can make a product that works for different parts of your body with what you have. The Nature Balm moisturizes your skin while the candelilla wax wards off mosquitos. But wait, it gets better. Their Multi-Wash cleanses the face, the hair, and the body. You can count on their products to declutter your space so you can make room for a product that brings you joy.
---
There's something about their motto that stands out to us. They want to create skin care products that make you feel as you are. Oui the People strives to diminish those unrealistic expectations set forth by people who don't know how to treat women's bodies in the first place. They produce masterpieces like the Featherweight Hydrating Body Gloss, a hydrating body gloss that enhances your skin. And no one says you have to shave, but if you're going to, check out the Shave Gel-to-Milk, Matte Gold Sensitive Skin Razor, or Deep V Bikini Line Sheet Mask.
---
This skin care company is out here making a difference with plant-based, cruelty-free products that make a difference for your skin and the environment. They know that skin care should never be a one-size-fits-all kind of situation, so they've built a support system of key players that are unique to you. They're setting a new standard with products like Sunflower Sweets Serum, Perfecting Glow Lotion, and TLC Toning Solution. And while you're at, check out their blog for all sorts of tips, tricks, and answers to questions like: are facial mists worth the hype?
We could go on and on, but we'll let the products do the rest of the talking.
xx, The FabFitFun Team