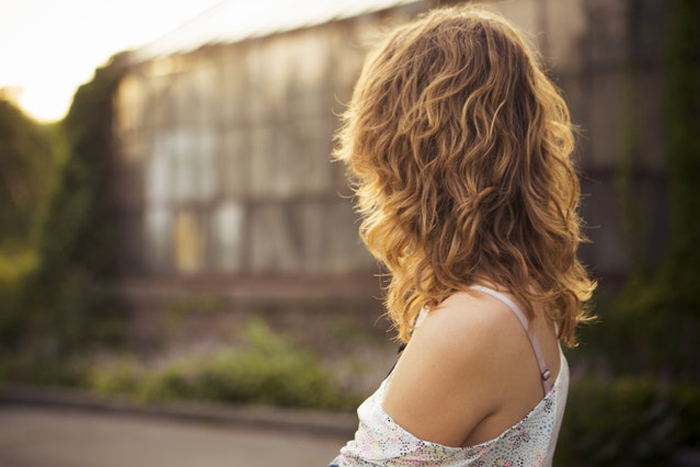 Feature Image by Anna Demianenko
As much as we love a freshly-styled mane, we all have those days when we skip blow-drying or straightening our hair for the sake of saving time and preserving hair health.
But what's the secret to making air-dried hair look just as good? We reached out to hair experts for their top air-drying tips to treat, dry, and style still-wet strands. Read on to learn how to air-dry like a pro.
Air-dry weekly
"If you can air-dry your hair two to three times per week, you will notice a big difference in the health of your hair," says Carolyn Aronson, hair stylist and founder of It's A 10 Haircare. Air-drying your hair is the perfect follow-up to your weekly deep conditioning treatment, so we like to use the It's a 10 Potion 10 Miracle Repair Hair Mask Deep Conditioner before going all-natural.
Maximize moisture
"Hydration plays a huge role in how your hair dries," says Jacynda Smith, hairstylist, founder, and CEO of TYME. "If [it takes] a long time to dry, it's a sign that it needs more hydration and is doing everything it can to retain moisture from the air." Consider adding non-stripping cleansing conditioners or add a fast-acting mask like the OUAI Treatment Masque to your shower regimen for maximum hydration.
Dry gently
"Gently towel dry by squeezing out excess water out," says celebrity hairstylist, Jillian Halouska. Instead of harshly rubbing your locks to dry it quickly, go for a moisture-wicking hair wrap over the use of abrasive cotton towels. We love the AQUIS Rapid Dry Lisse Hair Turban because the unique fabric dries hair fast while preventing frizz, split ends, and damage.
Use a leave-in conditioner
Using a leave-in conditioner can help enhance the fresh, soft texture of your natural hair. Leo Izquierdo, a celebrity hairstylist and co-founder of IGK Hair, suggests, "products with hydrators and no salts or sulfates." We recommend the R+Co x Fred Segal Waterfall Moisture Shine Lotion for its light yet intensely hydrating formula.
Prevent frizz
"Reduce frizz every step you can," Izquierdo continues.  According to Izquierdo, the less you brush and touch your hair, the better. So to avoid any extra frizz from forming, use the Drybar 100 Proof Treatment Oil, which replenishes, smooths, and adds shine to all hair types.
Minimize washes
No, you don't need to drench your hair in dry shampoo to skip a day of washing your hair. There are actually air-drying products that can help increase the time in between washes, and Halouska suggests the antioxidant-rich, green tea-infused OGX Green Tea Air Dry Cream Hair Treatment, which helps fight frizz and add moisture.
Consider hair type
No head of hair is the same, so it's important to think about what works best for your own hair type. Halouska recommends volumizing shampoo for fine hair types. To create and maintain waves, we recommend the Captain Blankenship Sea Salt Mermaid Hair Spray.
Create movement
"When applying product, start at the ends. Lightly scrunch hair to create more curl, or comb it out for looser waves," Halouska advises. Twist strands while drying to create dimension, including your face-framing strands. For some extra movement, apply the Kevin Murphy Curling Enhancing Lotion after showering.
Vary by style
"[Decide] what outcome you want to achieve and then find products that suit your needs," Smith says. Root sprays and dry shampoos add lift, texturizers give beachy waves, oils add glam, and pomade elevates a pony. Whatever you choose, use the TYME BigTYME Hair Root Lift Powder for added bounce and volume.
Embrace natural texture
It's important to work with your texture and not against it. Besides, natural locks make for a relaxed, trendy style. "Air-drying is always going to translate into a down-to-earth, laid-back vibe," Halouska notes. Embrace your natural texture with the Oribe Styling Butter Curl Enhancing Creme, which blends shea butter with avocado oil to hydrate hair, protect it from breakage, and control frizz.
Speed up the process
If you just can't wait for your hair to dry on its own, consider a product to expedite the process. We love IGK No More Blow. It uses advanced cooling technology and lightweight, invisible starches to absorb moisture and help hair air-dry up to 46% faster.
When it comes to taking care of your hair, does it really matter which brush you use? Here's everything you need to know.
xx, The FabFitFun Team