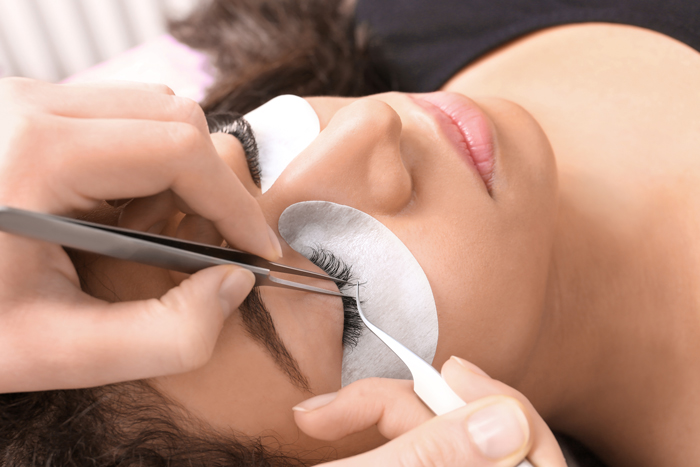 A bold set of lashes can totally transform the look of your eyes, drawing attention to your most flirtatious facial asset. The only question? How to best achieve it. While lash enhancement treatments like the keratin lash lift and eyelash extensions have surged in popularity, determining which treatment is right for you requires research.
So to aid the process, experts share everything you need to know about lash lifts and lash extensions below.
Lash Lifts
What is it?
The lash lift is like a perm for your eyelashes. Costing roughly $175 for a tint and lift, the hour-long process imparts extra length and curl, eliminating the need for lash curlers completely. "The benefit of getting a lash lift is that they are your own natural lashes," says Saime Demirovic, the founder of GLO Spa NY. "You don't have to worry about your extensions falling off or your mascara running."
Side effects
Getting chemicals into your eyes during the process can cause redness and itching for a few days, but the treatment poses minimal risks to most unless you're allergic to the dye. "If you have any type of eye sensitivity, do not add the tint at the end," Demirovic advises.
Post-procedure
"The most important thing is not to wet your lashes for at least 24 hours," says Demirovic. "This includes applying mascara." If you take the right precautions, your revamped lashes should last at least six weeks and up to twelve with a lash enhancement product.
Lash Extensions
What is it?
"Lash extensions are semi-permanent synthetic faux mink or silk fibers, [which are] carefully applied one at a time," says Clementina Richardson, a celebrity lash expert and founder of Envious Lashes. Depending on your desired volume, technicians meticulously adhere 80 to 140 individual lashes over the course of one to two hours. It typically costs $105 to $500 and lasts several weeks.
Side effects
"If applied correctly and by a certified technician, there should be no side effects," Richardson shares. However, those with severe allergies or sensitive eyes might not be the right candidates. Once your extensions fall out, lashes might be short, broken, and brittle until they grow back, so use a lash enhancement serum like Luna Nectar Moon Boost Lash & Brow Enhancing Serum to help lashes grow back faster.
Post-procedure
"If you are making an investment in extensions in the first place, surely you don't want to see them go to waste," Richardson says. So avoid wetting your lashes for the first 48 hours and be wary of steam (particularly during facials) to avoid loosening the glue. "You also need to avoid rubbing your eyes or using oil-based products," she continues. Brushing your lashes and sleeping on your back can also help maintain your extensions in between fill appointments every three to four weeks.
Enhance your new lashes with a gorgeous eyeshadow look. Try this eyeshadow trend that's not going anywhere anytime soon.
xx, The FabFitFun Team