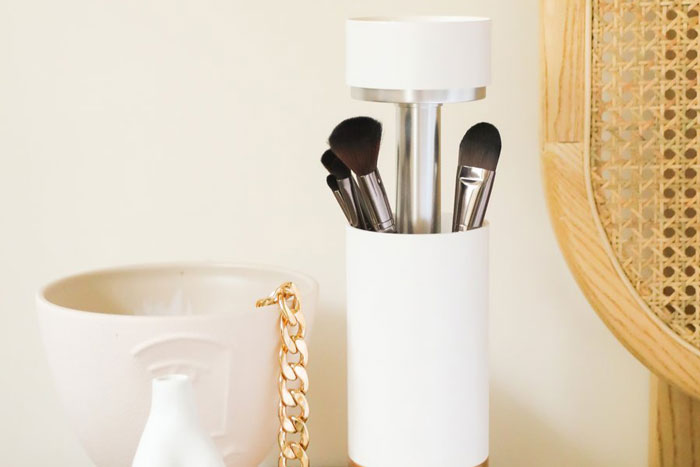 Feature Image by Brushean
With the threat of shutdown ever-looming on the horizon, beauty lovers are indulging in spa-like treatments at their own homes. While at-home versions of popular beauty gadgets will never be quite as effective as professional-grade treatments, they are fantastic for maintaining results in between appointments — and for lavishing yourself in self-care.
"When unable to see your medical esthetician for in-person assessments, personal protocol, and top tools, home tech [are] a good interim way to maintain your skin care regimens," says Candace Marino of The LA Facialist. Whether you are struggling with mask-ne, missing blowouts at the salon, in need of a manicure, or curious about those trendy LED masks all over Instagram, there are plenty of beautifying, hi-tech gadgets to geek out over.
Here are ten of our favorite hi-tech beauty gadgets to add to your holiday wish lists.
You've undoubtedly seen trendy LED face masks all over Instagram promising boosted collagen, improved elasticity, more rapid healing, and all sorts of fabulousness. "It will help to heal, calm, and rejuvenate the skin," says celebrity esthetician and skin care line founder, Kat Rudu. The key is finding one with a near-infrared light for added anti-inflammatory, circulation-boosting support. "Infrared devices are good for minimizing age spots and acne, inflammation, and redness," she explains. This mask features clinically-proven red and near-infrared light at 633nm and 830nm respectively to deliver energy directly to the skin cells' mitochondria so they can perform their functions optimally.
---
"I love the sustainability of this product because it offers six modalities in one," says Julie Civiello Polier, holistic esthetician and founder of the LINEA Method. "My two favorite therapies exist in this one handheld device: microcurrent and LED." After years spent in development, this patented launch is like a "universal remote" for the skin. It features six different functions with modes that include ionic cleansing, under eye care, thermal moisturizing, firming EMS (which is like a deeper micro-current), Radiofrequency Red Light, and a cool mode to bring the latest in skincare technology to your fingertips. This might be the closest thing to a handheld spa.
---
"Microdermabrasion will help to resurface and keep cells turning over to exfoliate dead, dry skin and debris [so] your products can get to work while you cannot get to the salon," Rudu explains. "Any extra exfoliation is needed!"  The makers of the foremost at-home microdermabrasion tools now offer this cordless version of their classic exfoliator to help keep your counter space clutter-free.
---
The price tag is steep, but this award-winning device just redefined "no makeup" makeup. The award-winning launch uses laser jet technology to detect pigmentation on the face and automatically spritzes on a niacinamide-rich, tinted serum that not only covers pigment with a light finish but treats hyperpigmentation over the long-term. Plus, as Rudu points out, this tool will help minimize the need for pore-clogging makeup — something we may become extra wary of in the absence of professional deep cleanings and extractions.
---
If you haven't tried the cult-favorite dryer brush that allows you to DIY a professional-looking blowout from home, now is the time. After using this, you may never go back to your old school dryer-and-brush combo. "Personally, [this] dryer literally changed my life," Marino gushes. "I've mastered styling my hair and saved so much money."
---
Disinfect your makeup brushes in five minutes — including up to 99.9% of all viruses and bacteria — using this UV- and ozone-powered sanitizer. "Keep your makeup brushes clean to stop bacteria from transferring onto the skin," Rudu tells FabFitFun. "This will help to keep pores clean and stop blemishes." Since bacteria and microbes can linger on your brushes, exacerbating inflammation and acne, we are all about this hygienic device for keeping things clean and preventing breakouts.
---
On a similar note, avoiding dirty makeup brushes altogether is technically the most hygienic way. This DIY airbrush device can apply foundation, blush, and even setting spray, bypassing germs on the hands altogether. Without dirtying tools, sponges, or your fingers, simply load the mineral serum foundation into the cartridge and walk away with an airbrush finish.
---
Give yourself the royal treatment with this DIY facial device by celebrity esthetician and skincare line founder,  Joanna Vargas. "Joanna's Magic Glow Wand has a hot and cold setting, making it versatile for all skin types and conditions. I use the hot massage for product penetration and to plum my skin, and the cool setting to de-puff and soothe," Marino explains. The device stimulates circulation, reduces inflammation and redness, decreases puffiness, refines and cleanses pores, and helps product absorb more efficiently. Talk about a multi-tasker.
---
If you're missing your manicure appointments and the long-lasting, no-chip finish of gel polish, Orly has your back. This at-home UV lamp makes it possible to DIY your gel manicures from home.
---
Shade-matching foundation is hard enough as is, so it's a total drag when makeup applied in poor lighting inside ends up looking mismatched the moment you step outside. To remedy this catastrophe, the AURA mirror features three different, dimmable light settings (soft white, natural daylight, and neutral white) to ensure that your makeup matches your tone. "Lighting is everything. Great lighting sets the mood and I think the benefits of good lighting contribute to a more loving relationship with oneself as one moves through their beauty and skin care routines in the morning and evening," Civiello Polier says.
xx, The FabFitFun Team
Want to discover more innovative beauty products? You can find amazing goodies like these (plus more!) in the FabFitFun box. Use code GOODIESGALORE for 20% off your first box, access to member-exclusive sales, exclusive fitness and cooking content on FabFitFunTV, and tons more perks.