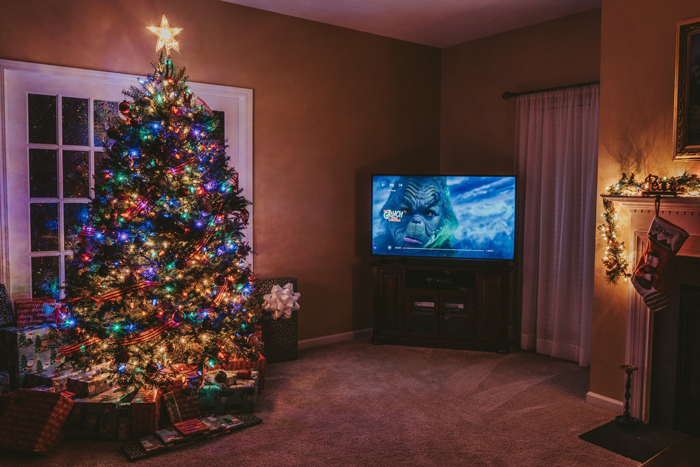 Feature Image by Joshua Herrera
It's beginning to look a lot like Christmas! With the days getting colder and shorter, we could all use a little more holiday cheer this time of year.
Put on your coziest holiday pajamas, warm up the popcorn, and queue up your favorite streaming device. We've got a list of holiday films, both new and classic, that are sure to warm your hearts all winter long.
Miracle on 34th Street
Available on Disney+
Kris Kringle is on trial for, well, claiming to be Santa Claus. With his mental health called into question, a young lawyer sets out to prove his innocence. Both the 1947 original and the 1994 remake are worth a watch!
---
It's a Wonderful Life
Available on Hulu
Starring James Stewart, this 1947 Christmas classic tells the story of George Bailey, a distraught man on the verge of committing suicide who is visited by an angel who helps remind him of the meaning of life.
---
Annie
Available on Hulu
It's a hard-knock life when you are orphan Annie, but despite the unkindness of her orphanage director, Miss Hannigan, Annie keeps hope that she will be reunited with her parents and find a home someday. When she is taken in by Oliver Warbucks, her story takes a spin for the better.
---
The Polar Express
Available on Amazon Prime
This animated film tells a magical tale of a trip to the North Pole on Christmas Eve. It's a movie for the whole family about learning to believe again!
---
Love Actually 
Available on Amazon Prime
This 2003 film is the ultimate holiday rom-com. Nine different love stories unfold starring big names like Hugh Grant, Liam Neeson, Colin Firth, and Kiera Knightley.
---
The Holiday
Available on Amazon Prime
Another beloved holiday romance, The Holiday tells a story of adventure, love, and the desire to belong when two professional women (played by Cameron Diaz and Kate Winslet) decide to house swap at Christmastime because they are unsatisfied with their lives.
---
How the Grinch Stole Christmas
Available on Netflix
Even the grumpiest, meanest, and coldest of them all needs love at Christmastime! This film is a classic remake of the famous cartoon, and Jim Carrey's off-the-cuff humor is sure to make you laugh.
---
While You Were Sleeping
Available on Disney+
Sandra Bullock is irresistibly endearing in this holiday film. Lucy, a transit worker saves a man who falls on the railroad tracks. When she visits him at the hospital, the injured man's nurse and family mistake Lucy for his fiancee.
---
Sound of Music
Available on Disney+
OK, so this movie isn't exactly Christmas-themed. However, the story about a musical family that escapes from the Nazi regime by fleeing to the Alps will remind you of family, courage, and love. You will definitely find yourself singing along with Julie Andrews!
---
Little Women
Available on Hulu
If you are looking for picturesque, snow-covered Christmas scenes, Little Women needs to be added to your queue this holiday season. The timeless story of the March sisters, the joys, and pains of coming of age, and the power of family unfold to the perfect New England backdrop.
xx, The FabFitFun Team