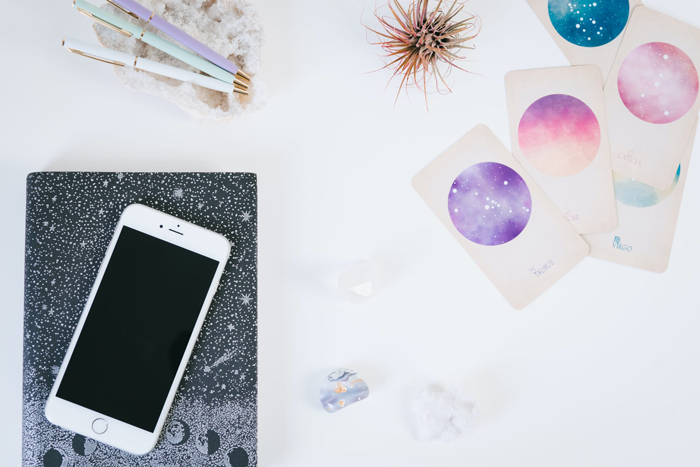 All this time indoors has turned attention within, piquing interest in practices that range from meditation and mindfulness to self-care and astrology. Astrologers align inner- and outer-experience via the movements of the celestial bodies, and the practice lately has been taking off. Plus, with the holiday season upon us, a little cosmically-aligned inspiration also makes for seriously fun gift-giving.
We reached out to the astrologer Gabrielle West, founder of The Saturn Girl, to help us pick the best holiday gifts according to your sun sign. First, West reminds us that these gifts are interchangeable per the sign's element. The key is knowing whether the recipient's sign falls under the Air (Gemini, Libra, and Aquarius), Water (Cancer, Scorpio, and Pisces), Earth (Taurus, Virgo, and Capricorn), or Fire (Aries, Leo, and Sagittarius) elements. Once you've got that settled, the gift guide below will be your astrological oyster.
With the lovely West as our mystical guide, you can window shop your way through the zodiac signs below.
"This fiery, independent, and confident goddess is always on the go," West says of empowered Aries. "A practical gift would be original [and] sets them apart — one they can easily bring on their everyday adventures." In seven to 10 minutes, this portable, travel-friendly vial of crystals goes inside your beverage to infuse the energetic signature of high frequency gemstones into the drink while improving oxygenation and alkalinity.
---
"This simple yet chic, Buddha-like person needs to indulge in me-time and witchy self-care to make her feel like her best self," West reveals of Taureans. "Gifts to pamper her beauty routines and bodies will be [appropriate]." Because luxury-loving Taurus is ruled by the planet Venus — the benefic planet associated with love — this rose quartz eye mask is on the nose (pun intended).
---
"A gift that fosters their insatiable curiosity, love of communication, or helps [her] to be in-the-know [will be everything]," West says of Gemini, a sign that loves to learn. After these beautiful brainiacs get their fill of spell-casting, she can crack open a Chakra Activity Workbook, or let her creative side reign with this ultra-chic Astral World Coloring Book.
---
Cancer (June 21 – July 22): Chakra Balms
"[Cancer gals] often need to get cozy and rebalance at home," West says. "Perfect gifts for these Moon-ruled babes [provide them with the means to] self-nurture and rejuvenate, to truly feed their souls." To ground her emotions at the energetic level, she can activate and balance her spiritual energy centers (aka chakras) with these essential oil-fragranced balms.
---
"The regal lion loves to be stylish and well-groomed; she loves to take center-stage," West says, recommending a gift that makes her look and feel like the shining starlet that she is. The gift of glam, particularly for her mane (er, hair), is perfectly on theme. We love this hair oil, which contains the spiritually-significant plant ayahuasca.
---
"The Virginal Queen needs to be orderly, punctual, and divinely purified," says West. "[Chic] gifts to promote self-organization, cleanliness, and ultimate healing and relaxation will make them happy." Sophisticated Virgo can keep organized and plan ahead using this cosmic planner that even tracks the moon's cycles. In addition to a calendar, she can oversee progress on her goals, manifestations, and personal growth while using the affirmations, journaling, and reflection in this functional gift.
---
West shares that Librans are ruled by the planet Venus, which means they can err on the side of being beauty-obsessed. Ever the hopeless romantic, this combined facial roller and pastel pink gua sha tool relay the benefits of two beauty tools in one courtesy vis-a-vis the gemstone of love and self-love. "Known as the sign of the cosmic mirror, Libra peeps are trendsetters, romantic, and balanced. Gifts that showcase their unique beauty and love of art are picture-perfect," West elaborates.
---
"A gift that allows Scorpio to dive deep into the world of magic, or to attain secret knowledge, would satisfy their cravings for the hidden [side of things]." For a full-on manifestation ritual, this kit contains it all — a sage wand for smoke cleansing your space, raw labradorite crystal, a clear quartz point, Palo Santo, and more.
---
"The deep thinker of the zodiac [is] outdoorsy and nature-loving, and are philosophers that are always seeking [truth]. Gifts to expand their spiritual understanding, [love of travel], or that bring nature to them are key," says West. This non-toxic, functional fragrance uses phytoncides, the chemicals released in nature that soothe the nerves, to make the earthy, woodsy aroma. If you can't take your Sagittarius friend to a cabin in the woods, bring the forest to her!
---
"Climbing their own personal Mt. Everest 24/7 can be exhausting," West says of the Capricorn, which is symbolized by dexterous, cliff-climbing goats. "These people tend to overwork themselves, so a celestial gift to help inspire deep relaxation would be exactly what they need." This purifying smoky quartz crystal doubles as a vial for essential oils, which can be used by the ambitious sign to keep calm and unwind. (Vitruvi Dusk is an essential oil blend for grounding that the Earth sign will love.)
---
"The quirky future see-er is all about friendship and community," West says of Aquarius. "Mind-engaging, creative gifts that awaken and attune their cosmic abilities, and that promote self-acceptance, will speak volumes [to this sign's nature]." Your Aquarian friend will love learning Tarot as a tool for personal growth — and this deck is meant for daily reflection.
---
"Ruling over the sea, these babes often need to escape [reality in order to] play in their imagination and dreams. Gifts to inspire and build on their intuitive and creative sensibilities, particularly that help them detox, will see their hearts swimming with joy," West shares of Pisces. After a cleansing bath, she can chill in this cosmic robe and get her inner world sorted out.
xx, The FabFitFun Team
P.S. You can find similar goodies (think serums, makeup, and home products) in the FabFitFun box. Use code GOODIESGALORE for 20% off your first box, access to member-exclusive sales, exclusive fitness and cooking content on FabFitFunTV, and tons more perks.