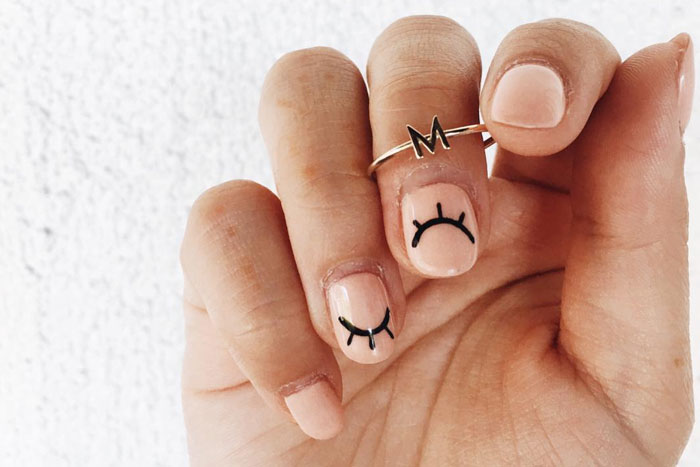 Do you have a tried and true nail polish color that speaks to you whenever you're at the nail salon? Well, perhaps there's a cosmic force guiding you.
Ahead, we tell you what shades you're fated to love with this mani-scope that explains every astrological sign's power color.
Aries
A quick and energetic sign by nature, rams need a hue that will keep their interest. Go with a deep crimson — it provides contentment and has an adventurous finish.
---
Taurus
Lovers of all things natural and green, this Venus-ruled sign needs a soothing, calm color like a mossy green.
---
Gemini
Known for dual personalities and a tendency to wander off the beaten path, it's important that these twins pick a shade that is just as multifaceted. Enter iridescent purple, which is not only as reflective but also endlessly versatile (just like you!).
---
Cancer
Ruled by emotions and hopelessly connected to the serenity of the ocean, Cancers needs a color that resonates on a deeper, emotional level but is still a little unexpected. Choose a color that ignites passion and soothes the soul like a deeply-saturated navy. It complements a variety of skin tones and will keep your looks grounded and polished.
---
Leo
Fierce and always the life of the party, this superstar sign needs a polish that can keep up with the never-ending social life (think a gorgeous red!).
---
Virgo
Perfectionists and practical Virgos gravitate towards function and order so a subtle shade will please you the most. Think warm nudes and soft pinks — anything that won't cause a mega mismatched fashion faux pas.
---
Libra
The ultimate peacekeeper that prefers balance and harmony in all aspects of their lives, Libras crave an uncomplicated color like a glossy noir. It's beautiful and won't be a distraction.
---
Scorpio
Dark and moody are synonymous with this sign, so a mysterious royal purple hue will satisfy your secretive ways and be an unexpected departure from sultry reds, Scorpio.
---
Sagittarius
Utterly inquisitive and open-minded (a natural pairing for the archers), opt for a creamy greige to keep you grounded and ready to take on your next adventure.
---
Capricorn
Calculated and a no-frills type of sign, Capricorns need nails to be practical and efficient. A dusty rose will translate from work to drinks with no touch-ups needed.
---
Aquarius
Naturally innovative, water carriers need a sharp color to match their out-of-the-box thinking. This sunny color screams, "I'm a boss babe!"
---
Pisces
Daydreamers and highly imaginative, Pisces babes need shades that are in a realm of their own. Think fiery oranges to keep you inspired while letting loose.
xx, The FabFitFun Team