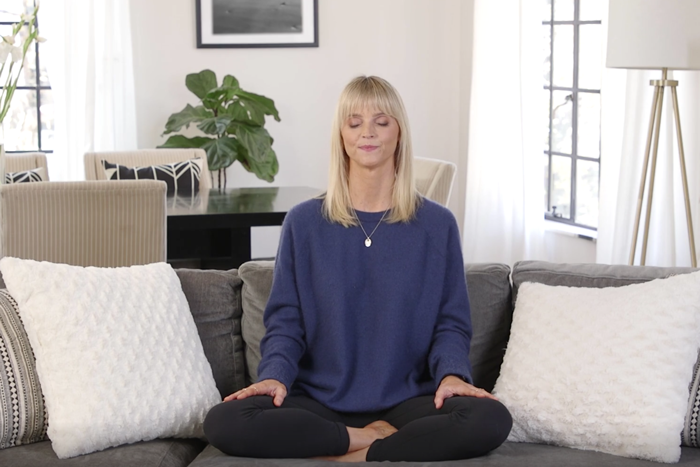 In times of great uncertainty, like now, it's normal to feel more anxious than usual. While a quick jog around the neighborhood can help you forget about your worries for a moment, that's not always possible. That's where meditation comes in.
There are so many amazing benefits to meditating from decreasing stress and anxiety to improving your focus and sense of well-being. You can do it from anywhere, it only takes a few minutes, and the benefits can last you throughout the whole day. So here are some meditation videos you can stream right now on FabFitFunTV follow to help you keep calm.
Meditations don't have to take up too much of your time to be effective. This 60-second meditation will help you stop overthinking so you can go about your day with a clearer mind.
---
Taking a few deep breaths can help you stay calm when you're feeling anxious or overwhelmed. In this video, Jen Kluczkowski teaches a breathing technique that can help lower your blood pressure, reduce stress, and increase your focus.
---
Even if nothing in your life feels like it's working out, meditating and visualizing can help you attract the outcome that you're hoping for. This video featuring Kluczkowski teaches you how to do just that.
---
This meditation led by Danielle Cuccio will help you stay grounded and give you a sense of clarity when you need it most.
---
Practicing gratitude is one of the best ways to stay calm when you're feeling like life is getting too much. This unplug meditation video will help you have an attitude of gratitude in just a few minutes.
---
This super relaxation technique can be used whenever you need a moment to pause and take a breather.
---
Your emotions can really get the best of you during tough times. This meditation video from Kluczkowski will help you process any negative feelings you have so you can move forward with a positive mindset.
xx, The FabFitFun Team