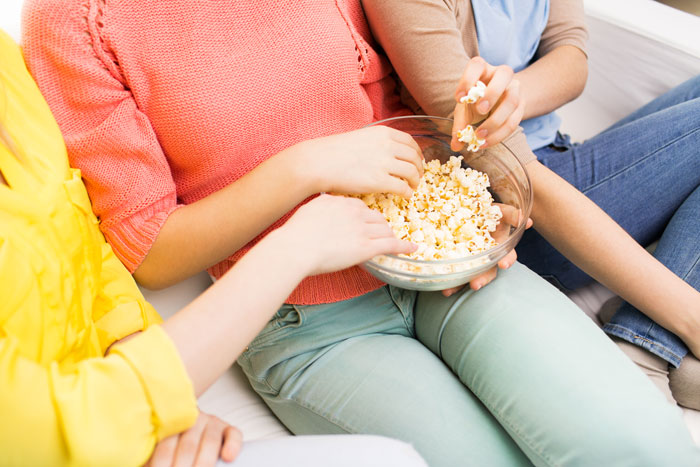 The 90th Academy Awards are right around the corner (March 4), and while we may not be walking the red carpet, you can catch us watching the Oscars on TV with a glass of wine in hand (who's with us?!).
To prep for the big night, here are 10 films to watch before Sunday. Whether you're into love stories or suspense thrillers, you'll find a film that tickles your fancy.
Molly's Game
Based on the true story of Molly Bloom, the film follows the former Olympic skier as she moves to Los Angeles and runs one of the world's most exclusive poker games, making herself an FBI target. It's oddly addicting watching Molly continue to run poker games, and you'll even find yourself cheering her on as the FBI is after her.
---
The Shape of Water
When it comes to obscure love stories, The Shape of Water takes the cake. Elisa is a mute woman working as a cleaning lady in a government laboratory. This film follows her discovery of a lab creature as she develops a unique bond and relationship with it.
---
I, Tonya
If you're obsessed with the Winter Olympics, then this one's a must-watch. I, Tonya follows the case of the most infamous scandal in sports history that led to the demise of Tonya Harding's skating career. Watch how one of the best figure skaters got involved in the infamous attack on rival Nancy Kerrigan.
---
Lady Bird
Being a teen in high school is never easy, and Lady Bird seems to agree. Watch an outspoken teen's relationship with her mother as she navigates love, senior year, and more.
---
The Big Sick
If you're all about love stories, add The Big Sick to your queue. A Pakistani comedian falls in love with an American grad student who later falls into a coma. Their relationship continues to grow even in the most difficult of times.
---
Three Billboards Outside Ebbing, Missouri
This woman-empowered dark comedy follows a mother who seeks revenge for the murder of her teenage daughter. It'll leave you crying and laughing all at once.
---
Baby Driver
We probably don't need to give you a reason to watch Ansel Elgort on the big screen, but Baby Driver is just that good. It's about a talented getaway driver who falls in love and decides to break free form his dangerous lifestyle.
---
The Post
You can never go wrong with Meryl Streep, and you certainly can't go wrong with The Post. Follow Katharine Graham, the first female publisher of The Washington Post. She and her editor rush to expose massive government secrets that could risk their careers forever.
---
Get Out
For all of our suspense and thrill junkies, Get Out is a must. We won't give too much away, but it follows a young woman who brings her boyfriend home to meet her parents. He soon realizes her family is more far out there than he realized.
---
All the Money in the World
This film is based on a true story and follows the infamous kidnapping scandal of John Paul Getty III. Watch his mother fight for his life and beg his billionaire grandfather to pay the ransom to free her son.
xx, The FabFitFun Team