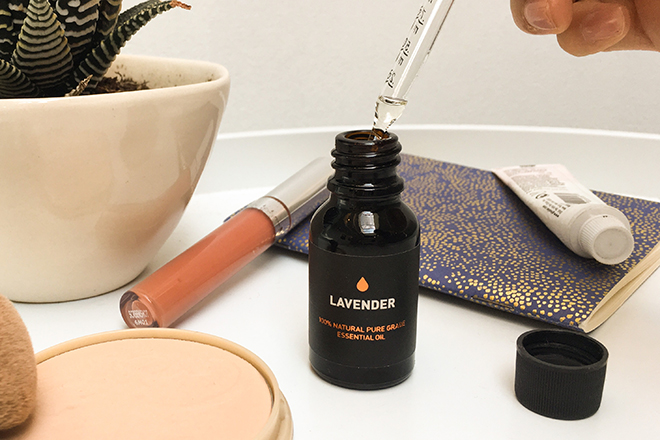 If you've ever wanted to use facial oils, but worried about how oily your already-oily skin would get, well, you'd be pleased to know that facial oils actually work for all skin types – including oily, breakout prone, or seemingly normal skin. While the word "oil" might seem daunting, you should know that there are actually a lot of health benefits to using oils.
In addition to making your skin oh-so smooth, here are five reasons why you should incorporate a facial oil into your beauty routine…trust us, you'll never go back.
Reduces wrinkles
Oils with a vitamin E base, like argan oil, are packed with antioxidants, which help prevent further aging of your skin. According to Good Housekeeping, if you have oily skin, you should opt for grapeseed oil because it's lightweight, non-greasy, smells amazing, and still has all the anti-aging properties that argan oil has. Just gently pat a bit of the facial oil onto your face after cleansing and toning.
Combats breakouts
We know what you're thinking — more oil will make your breakouts worse. But there are actually a lot of oils that are specifically designed to fight breakouts. For starters, you can use jojoba oil, which tricks your skin into stopping the natural overproduction of oils. Other great oils include aloe vera for its healing and calming properties, geranium essential oil for healing acne scars, and tea tree oil to combat acne.
Prevents water loss
Oils are great at retaining moisture in your skin (no matter what skin type). Use a lightweight oil-free moisturizer and a facial oil to beat the winter dryness.
Protects from harmful pollutants
If you use facial oils at the end of your skin care routine, it can act as a barrier against outside elements. You'd be surprised at how much smog and pollutants affect the overall condition of your skin. But don't just take our word for it — try it yourself!
They're the ideal makeup primer
Start your beauty routine with a facial oil for the perfect base. Both mandarin and pumpkin seed oils settle quickly into areas of your skin that need hydration without making you like a greaseball. Pat it into your skin so it's completely absorbed and then get on with your usual makeup routine.
Would you give facial oils a try? Let us know how you like it in the comments below!
xx, The FabFitFun Team