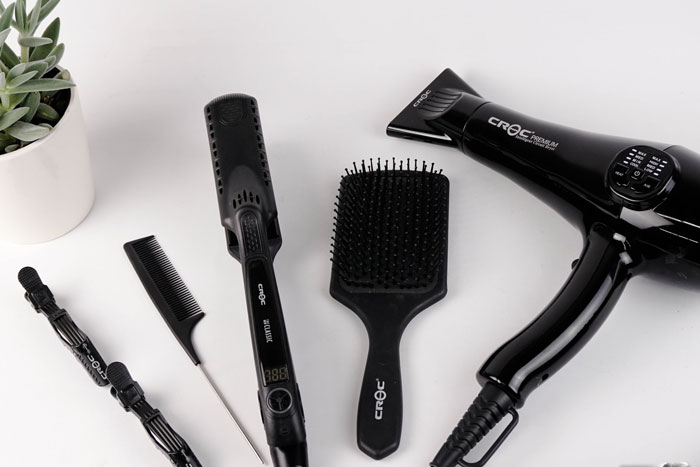 Feature Image by Shari Sirotnak
So much more than a dryer attachment, hair diffusers are an underrated styling tool that combats the most unruly frizz and frustrations from air drying. Particularly great for curly and wavy tresses, diffusers define curl texture with wider and gentler heat distribution, and keep the hair's natural spirals, twists, and bends intact and under control.
Hair diffusers themselves come in many shapes and sizes depending on hair needs. And the best strategically enhance natural hair texture, lock in hair products, and eliminate flyaways — all without the intensity and damage of other heat tools.
We've broken down the best ones on the market to try now for a hassle-free drying experience.
The large circular device diffuses hot air with 3D grips that work by lifting the hair and distributing even heat. Users like this one for its bigger size and easy functionality for thick and short hair.
---

The compact sock diffuser slips onto any dryer head and acts as a great travel option. The mesh fabric brings curls to life with targeted heat distribution, simultaneously locking out airflow that can cause air-dry annoyances, like frizz and flyaways.
---

Known for its innovative hand-shaped design, this diffuser blasts air at 360 degrees for a much quicker dry. It lifts the roots for volume and adds definition to every type of curl with a simple scrunching motion. The ceramic core locks in moisture for less chance of frizz.
---

The all-in-one diffuser and dryer duo are all you need for an easy hair day. Users control the tool with three different heat settings and two speeds, including a cooling button to set the hair in place.
---

Created by the professionals of the premier blowout locale, Drybar introduces its own diffuser that slows dryer speed for a targeted, yet gentle approach to natural curl definition.
---

There's no denying this industry favorite hair dryer is an investment, but one that many argue is well worth the cost. The hollowed-out design regulates air temperature to protect against harmful heat damage, drying hair quickly and safely. It comes with three magnetic attachments including a diffuser, which leaves users with a 61% decrease in frizz and added daily shine.
---

This diffuser tackles curls, waves, and generally difficult manes, specially designed for T3 Cura and Cura LUXE dryers. Its vented finger extensions not only eliminate frizz but also separate the hair for added volume without tearing the individual strands.
---

The reliable and customizable diffuser choice features 12 air vents that can be opened or closed for optimal heat exposure. The tool's prongs reach deep in the head for quick-drying roots and ends alike. It also reinvigorates the hair with infused minerals for hydration.
---

Customers love this diffuser for its versatility and universal fit, featuring adaptable buttons that fit over 90% of hair dryers on today's market. The diffuser includes a large 6-inch bowl with over 200 air holes for a wide and even drying process.
---

This diffuser is perfect for BaByliss fans looking for an add-on to their Volare V1, Portofino 6600, or Rusk CTC C7500 dryers. The professional-grade dryer extension slides on and stays put while hair is diffused in the bowl-shaped design.
xx, The FabFitFun Team
Want more beauty products? You can find amazing hair care goodies like the above (plus more!) in the FabFitFun box. Use code GOODIESGALORE for 20% off your first box, access to member-exclusive sales, exclusive fitness and cooking content on FabFitFunTV, and tons more perks.