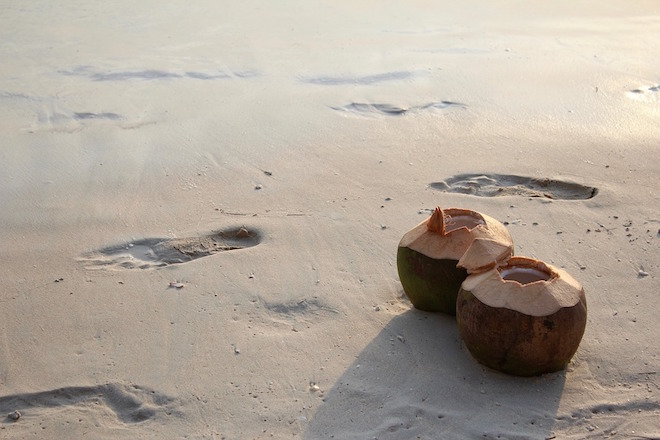 #Truestory. Everyone loves the coco, especially during the summer months. And if you have a giant jar of coconut oil lying around your kitchen, you're in luck. There are tons of things you can make with it, including awesome DIY beauty recipes. From a color protecting hair treatment to toothpaste, and even a nourishing brow tint, you'll be in coconut heaven this summer.
Hair Color Protecting Treatment
This treatment, created by Nelson Chan, celebrity hairstylist and owner of Nelson j Natural Salon in Beverly Hills, will help protect your locks from fading during the summer months when exposed to the sun, salt, and chlorine water.
Ingredients:
2 teaspoons zinc
6 ounces coconut oil
Directions:
Mix 2 teaspoons of zinc with 6 ounces of coconut oil. Apply mixture all over hair before going out into the sun or swimming.
---
Brow Nourishing Treatment
Hibba Kapil, founder of Hibba Beauty Studio in New York City, shared one of her favorite DIY coconut oil recipes that caters to gorgeous brows. It nourishes and helps the brows grow, and is chock full of good-for-you ingredients. The cacao even offers a natural tint.
Ingredients:
Castor oil
Coconut Oil
Cacao powder
Directions:
Mix castor oil, coconut oil, and cacao powder together in equal parts. Blend it well and then store in the freezer in a small jar. When you're ready to use it just take out of the freezer and apply directly to your brows with a Q-Tip before going to bed. After applying with the Q-Tip, brush the mixture in with a disposable mascara wand.
---
Coconut Oil Toothpaste
Coconut toothpaste, say what? Kopari Co-Founder Kiana Cabell, suggests making this easy, all-natural toothpaste for a clean and pearly white smile.
Ingredients:
2 tablespoons Kopari Organic Coconut Melt
6 tablespoons baking soda
10 drops essential oil (mint or cinnamon)
1 teaspoon fine sea salt
Directions:
If the coconut oil is solid, heat it up until it melts. Add all of the ingredients in a mixing bowl until combination resembles a creamy paste. Store in a glass mason jar.
*No need to refrigerate
---
Coconut Rose Oil Conditioner
Wendy Rose Gould of Latest-Hairstyles.com shared her amazing 3-in-1 Coconut Rose Oil Conditioner recipe that can be used as a hair mask, deep conditioner, and leave-in treatment. Yes, please!
Ingredients:
5 tablespoons shea butter
3 tablespoons coconut oil
1 teaspoon Dr. Bronners' Pure Castille Soap
1 teaspoon extra virgin olive oil
15 drops 100% Camellia seed oil
6 drops rose essential oil (or scented to preference)
Directions:
Combine three tablespoons of shea butter and three tablespoons of coconut oil in a microwave-safe bowl. Microwave until everything's melted and mixed well. Add Castille soap, olive oil, camellia seed oil, and rose scent. Place the mixture into the fridge or freezer until it's cool, but not solid. Add your remaining two tablespoons of shea butter to the mixture and whip with a hand mixer. It'll turn into a normal, conditioner-like consistency. Place in a container and date it.
xx, The FabFitFun Team