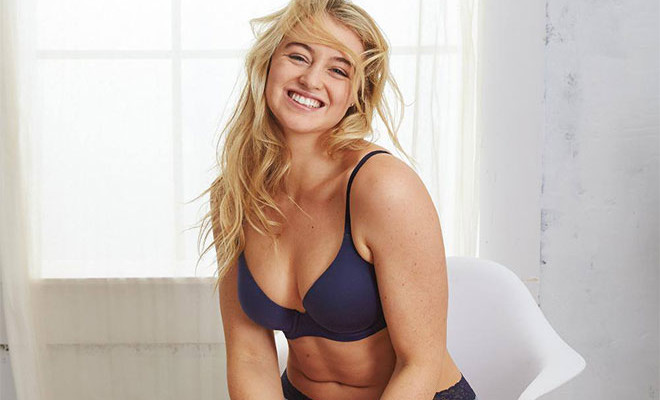 Body shaming continues to happen today, but fortunately, our society is slowly becoming more accepting of bodies in all shapes and sizes. We have graduated from defining beauty as a size zero and instead are seeing beauty in different ways.
Some major brands have been adopting this mentality, as well, and we couldn't be more proud. After all, not everybody looks like the Barbies of this world — it's much more than that and the below brands are inspiring us to broaden the "norm" of beauty.
Aerie
Aerie (a sub-brand of American Eagle Outfitters) creates gorge bras, undies, and swimsuits. Their brand is one of the first to feature "real" sized women in their ads without Photoshop which has long been a controversy in the fashion world. Aerie's slogan pretty much sums it all up — "Why retouch beauty? The real you is sexy."
---
Adidas
The German-based company is all about defying labels. They have chosen women who create, perform, succeed, and push their limits. The women like HBFit founder Hannah Bronfman, rock climber Sasha DiGiulian, and model and techie Karlie Kloss have much more to offer than their beauty alone.
---
H&M
This beloved clothing empire branched outside the traditional standards of swimwear models and chose to feature a beautiful 60-year-old fashion stylist in their latest campaign — proving that confidence is sexy. A model herself, Gillean McLeod started modeling at age 53. While she may be going against the traditional career trajectory, she looks damn good doing it.
---
Dove
Dove launched their Campaign for Real Beauty in 2004 which started the global conversation about the need for a wider definition of real beauty. You've likely seen their viral beauty campaign videos which encourages loving yourself, like their Real Beauty Sketch, and addresses how only 2% of women around the world describe themselves as beautiful.
---
ModCloth
We are obsessed with ModCloth's "All for Love & Love for All" motto that greets you upon entering the online shop. Women of all shapes and sizes model the clothing, showing we should all look and feel gorgeous no matter what society says. After all, beauty should not be defined by one stereotype.
xx, The FabFitFun Team