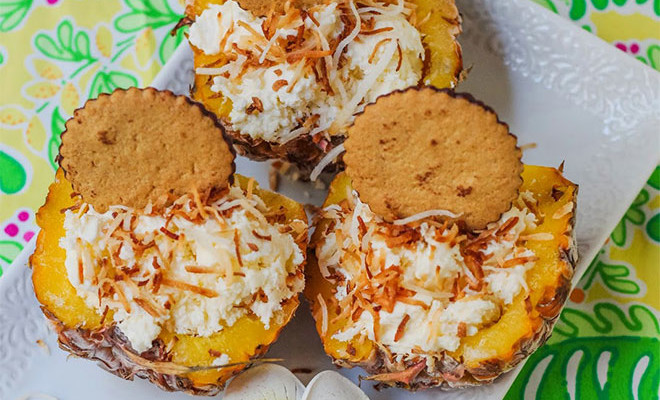 The weather is heating up and it's likely your pinboards are filled with sweet icy treats to keep you cool this summer. This recipe from Kasey's Kitchen uses the beloved tastes of pineapple and coconut to create a deliciously simple ice cream treat. Oh, and serving them in mini pineapples may just be the cutest idea ever!
Ingredients:
1 cup heavy whipping cream
3/4 cup Cream of Coconut/Pina Colada Mix
1/2 cup sweetened shredded coconut
1/2 cup crushed pineapple, drained well
Directions:
1. Chill a large mixing bowl and the beaters (or whisk attachment) of an electric mixer in the fridge for about 20 minutes. Remove from the refrigerator and pour whipping cream into the bowl. Mix on high until peaks form.
2. Gently stir in the cream of coconut, sweetened coconut, and pineapple.
3. Spoon into a freezer safe container, cover, and freeze for about 4 hours or overnight.
4. Get snazzy and serve in hollowed out baby pineapples like the ones I used from Frieda's Produce. Top with toasted coconut and chocolate coconut cookies for a little extra suttin' suttin'!
To get more recipes from Kasey's Kitchen, check out Facebook, Instagram and Pinterest!
---
This story was written by a fab member of our Ambassador Network.