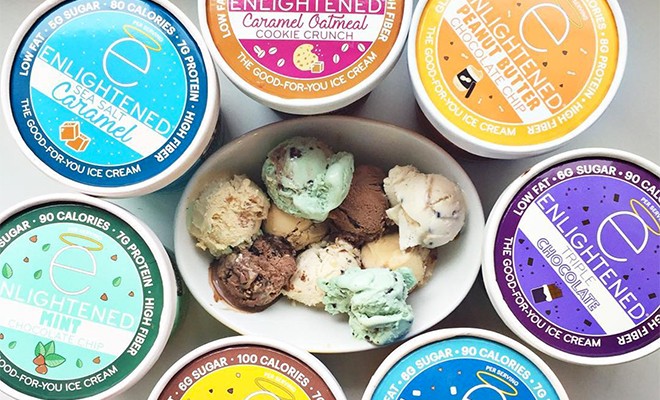 Since we aren't guaranteed candy and Valentine's grams anymore, we have to provide our own treats.
But instead of slaving away in the kitchen this year, why not pick up or order a dessert for you and your S.O.? You avoid the risk of burning the cookies or forgetting an ingredient, plus the desserts are packaged and ready to go whenever you are!
Check out our picks to enjoy this year – from healthy ice cream (yes, we're serious) to mini Valentine's Day-themed cupcakes, you're sure to make your sweetie's day!
ENLIGHTENED $5.99
Enjoy the delicious taste of ice cream without any of the guilt! A serving of any ENLIGHTENED flavor has only 60 to 100 calories, less sugar and fat, plus a dose of protein and fiber. Try out one of their new flavors, which range from Strawberry Cheesecake to Cold Brew Coffee — and they're available at Sprouts Farmers Markets starting on Valentine's Day. Pick up a pint on your way home for a sweet surprise!
---
Baked by Melissa The TLC: True Love Cupcakes $32
While you might not eat all 25 of these bite-sized cupcakes in one sitting, they're perfect to have around for the week ahead. This pack has six flavors of deliciousness like Caramel Pretzel Crunch and Chocolate Velvet. Each little guy has a special topping atop of the icing, adding a little extra sweetness to your V-Day!
---
Mochidoki Sweethearts Collection $15
Mochi lovers will devour this pack right away and honestly, who can blame them?! The Japanese ice cream treat is perfect for when you want just a bite. Grab the Sweetheart Collection this Valentine's day, which includes Vanilla Chocolate Chip, Strawberry, Raspberry White Chocolate, and Passion Fruit pieces to share (or not) with your bae.
---
Jars by Dani Valentine's Day Three Pack $30
Switch things up this year and grab yourself and your sweetie a deconstructed cupcake. Jars by Dani are filled with cake, frosting, sprinkles, and toppings to give you the perfect sugar rush you need in the convenience of a jar. This three pack could be a variation of their many flavors such as Cake Batter and Fudge Brownie.
---
Cookie DO Valentine's Day Pack from $24
Edible cookie dough? Sign us up! Don't risk the possibility of contracting salmonella this holiday and go straight for the safe stuff. The Valentine's Day multipack has lots of fun toppings and ingredients mixed in, plus it comes with lids, spoons, and gift wrapping to truly make this treat one of the best gifts on the day of love.
xx, The FabFitFun Team