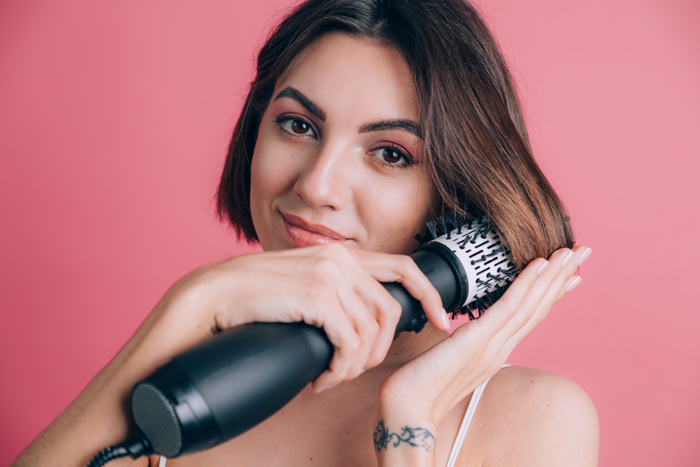 The dryer brush, which combines the round brush and blow dryer into a single functional hair styling tool, has forever changed the way we style our DIY blowouts. To make the most of your 'do, hairstylist and men's groomer Avian King provides some pointers on how to use them.
"A good leave-in, thermal protectant is a must, especially if it is long, fine, or color compromised," she begins. If you have curly, frizzy, or textured hair, she adds that a creme leave-in can be especially efficacious.
Secondly, she recommends blow-drying your bangs first. Her game-changing tip is to blow dry them to one side, then the other, before drying them straight. Trust us, this works.
Lastly, King warns against using brush heads with metal bases in order to avoid thermal damage. "I strongly encourage all hair types to stay away from metal [round brush heads]. If you do anyway, do not use it on wet hair." Because it can become so scorching hot, it should only be used on hair that is 85-90% dry already, so save it for the finishing touches.
Now, shop our favorite dryer brushes below.
This is the cult-favorite dryer brush that set the dryer-brush craze into action. Don't be fooled by the affordable price — beauty-lovers swear that this is a game-changing beauty tool.
---
The longtime leader in heated hair care tools offers a blowout brush, too. Clocking in at just under $100, your strands will benefit from ceramic technology to protect from the heat and an advanced ion generator for smoothness and shine.
---
Got tangles? Here's our pick. Or, if you just want to blow dry straight with a paddle, look no further than this affordable option with three different heat settings. Plain and simple.
---
It comes with your choice of two interchangeable brush heads, so you can take your pick in how you'd like to style your locks. The head above features a smaller brush circumference that is best for finishing touches, but it also comes with a synthetic bristle-version that can be used on wet hair.
---
The brand makes dryer brushes in two different sizes — the Single Shot (above), which is great for shorter lengths, and the wider Double Shot. Depending on hair length and the desired style you'd like to impart, this gadget is said to be great for volume and shine.
---
This is the best pick for those of you with textured locks. It offers three different heat settings to allow for less heat on brittle or fragile strands, while ionic and ceramic technology helps to prevent frizz and thermal damage.
---
This dryer brush features a large oval barrel with a combination of short and long bristles. The tourmaline coating is said to emit ions that make it ideal for taming frizz and imparting double the shine of a regular dryer.
---
There's a hefty price tag attached to what can only be called the Rolls Royce of dryer brushes. Let's just say it's got all your bases covered; for every hair type and style under the sun.
Have you tried dryer brushes before? Let us know in the comments below!
xx, The FabFitFun Team