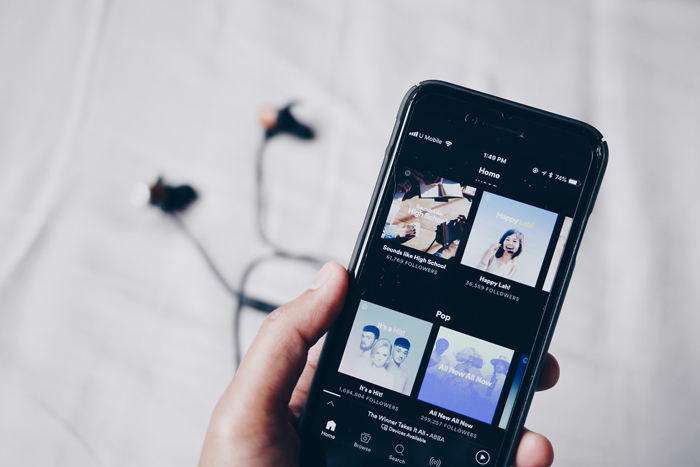 Feature Image by Fixelgraphy
Society's obsession with true crime cases has been around for decades; just look at the long-running prime-time television specials, 20/20, and Dateline. However, in recent years, true crime media consumption has skyrocketed, most notably due to the rise of true crime podcasting.
The podcast that really started it all was "Serial" in 2014 and since then, everyone has listened to at least one true-crime podcast. There is a new podcast popping up every day, including podcasts that cover a new case every week or a podcast dedicated to a single case. 
While it might seem extremely morbid to be so interested in the horrific crimes of murderers and other criminals, they can and have been used for good. These podcasts have led to decades-long cold cases being solved, which makes for an exciting season finale.
Here at FabFitFun, we've rounded up the top 10 best true crime podcasts you can listen to right now!

This is a podcast hosted by an aunt and niece duo that has been around for a few years. They put out multiple podcast episodes per week and focus on different cases weekly. They have covered serial killers, murder mysteries, paranormal cases, and all things spooky. The banter between the hosts offers a nice balance of normalcy amidst the 'morbidness' of the stories but each case is carefully researched and episodes are well thought out.
---
This doesn't fall into the realm of traditional true crime but it still has that mysterious edge. This is the latest podcast from the powerhouse, Wondery and it focuses on one case throughout the six episodes. "The Apology Line" focuses on Mr. Apology and his creation of a phone line where people could call and apologize for their grievances, including crimes. It's an interesting listen, hosted by someone very close to Mr. Apology, so you get a first-hand look at how this creation consumed him.
---
In the aftermath of her arrest, "Power: The Maxwells" takes a look at Ghislaine Maxwell's life, from her childhood to meeting Jeffrey Epstein. The podcast focuses a lot on Maxwell's father, to give you a true look at who she is and how she was raised. If you were interested in the Jeffrey Epstein case and wanted to know more about his right-hand woman, this will be a great listen for you.
---
Hosted by two best friends, Aaron and Justin, Generation Why has been around since 2012. Each week they discuss a different true crime case, in length and it's a very captivating podcast. They cover everything from the infamous murders of Jon Benet Ramsey to lesser-known cases like Holly Bobo. The pair have a great, easy dynamic with limited non-crime-related banter. If you're looking for an easy listen and want to learn more about different cases, this is the podcast for you.
---
This is a newer podcast by Discovery+ that is solely focused on the case of The Long Island Serial Killer. It's hosted by a native of Long Island who had ties to the man accused of being the notorious New York killer. She takes you through the history of the case, the murders, and disappearances that can be linked to the Long Island Serial Killer and all the different leads in the case. It's very interesting, very well researched, and a great listen if this is a case you are wanting to learn more about it.
---
Death of a Starlet is another Wondery podcast (this media company puts out incredible true crime podcasts) and is focused on the death of Playboy Playmate Dorothy Stratten. She might not be the most famous Playmate but she had a bright future ahead of her before she was brutally murdered. This podcast takes you through her life, her rise to stardom, and her death.
---
Lori Vallow made headlines in 2019 when her kids went missing and she fled to Hawaii to marry her latest husband. Vallow was a doomsday believer and death followed wherever she went. Her case has been covered by Dateline, 20/20, and other true crime podcasts but now, as her trial date looms closer, NBC News is taking matters into their own hands with this podcast following Vallow's life and the death of her children.
---
Peter Nygard is the latest man to be revealed as a sexual predator. Over 80 women have accused the fashion mogul of sexual assault and now, CBS Podcasts is covering the case in depth. The podcast currently has six episodes but more on the way as the podcast continues to ask the question 'How did Nygard get away with this for so long?"
---
This is another podcast that covers different cases every week. "True Crime Garage" has been around since 2015 and has hundreds of episodes where they covered very well-known cases and others not so known. Hosts Nic and The Captain have very great banter to break up the conversation but take the cases very seriously and provide some great information and perspective. Multiple times they have had guests who have first-hand knowledge of the case they're covering to provide a more expert viewpoint.
---
Dark As Hell is a newer podcast that is hosted by true crime junkie Maggie Burgess. She covers a new case each week, all heavily researched and well thought out. Burgess asks the hard questions about the cases and has covered everything from Scientology to Lacy Peterson.
What are some of your favorite true-crime podcasts? Let us know in the comments below!
xx, The FabFitFun Team