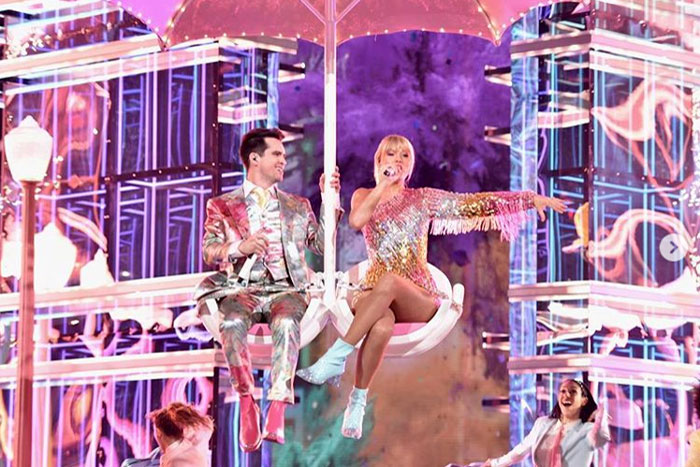 Feature Image by @taylorswift
The Billboard Music Awards 2019 took place last night at the MGM Grand Garden Arena in Las Vegas, and it was filled with some epic performances, emotional acceptance speeches, out-there fashion statements, and more.
If you missed it, don't fret – we're recapping the top five moments below.
View this post on Instagram
Basically, Anything Kelly Clarkson Did
Clarkson returned to host the BBMAs for a second year, and let's just say, she didn't disappoint. From her opening medley where she performed a mashup of past and present hits to her lively and oftentimes hilarious demeanor throughout the show, the singer made the awards ceremony especially fun to watch.
---
View this post on Instagram
Jonas Brothers Reunion
BRB, the 13-year-old girl in us is screaming. After announcing their upcoming tour on the red carpet, the Joe Bros reunited on stage for a fiery performance that was undeniably on point.
---
View this post on Instagram
Drake Drops Major Game of Thrones Spoiler
Last night, Drake became the most decorated artist in BBMA history when he rang in his 27th win (wow). But more importantly, if you haven't watched last week's episode of Game of Thrones, he spilled the deets on basically the most eventful moment of the entire show when he said (spoiler alert!), "Shoutout to Arya Stark for putting in that work last week."
---
View this post on Instagram
Taylor Swift's Me Performance
Following the much-anticipated drop of Swift's new single featuring Brendon Urie of Panic! at the Disco, they took to the BBMA stage for a performance that basically looked like Disneyland on steroids. Think rainbow colors, flying umbrellas, and a full-on marching band, which some fans quickly compared to Beyonce's 2018 Coachella performance. Suspicious? Maybe.
---
View this post on Instagram
Mariah Carey Accepts the Icon Award
Carey performed a collaboration of her hit songs, such as Hero and Always Be My Baby, before taking home the Icon Award for her impressive career. In her acceptance speech, she joked about her appearance in memes and praised the people who have supported her through both her highs and lows.
What was your favorite moment from the BBMAs last night? Weigh in on the comments below!
xx, The FabFitFun Team