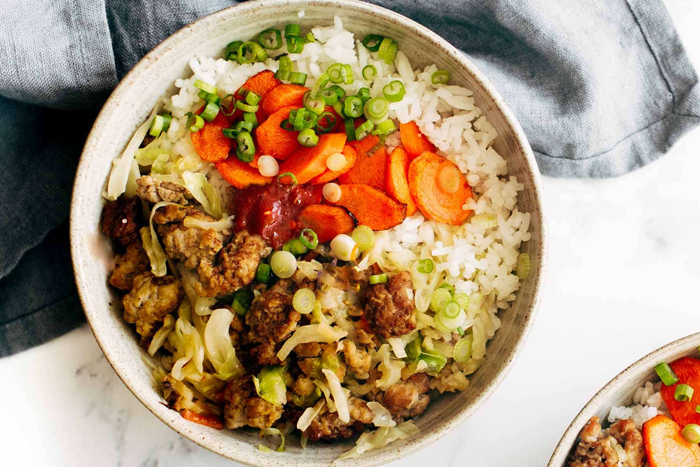 Feature Image by Pinch of Yum
Having a super busy schedule shouldn't mean you have to skip lunch. And cooking yourself a mid-day meal shouldn't be a huge production! To help ensure that you're fueling your body with something besides caffeine, we scoured the internet to round up ten easy recipes that take 15 minutes or less. Check them out below.
You don't have to be vegan to fall in love with this super easy lunch recipe that requires just six ingredients.
---
This colorful salad is delicious as is, but you can add in chicken for extra protein if you so choose.
---

This meal looks like it takes a while to make, but you can bring it to life in just a matter of minutes by prepping the vegetables while the pasta boils.
---
Taco Bell is cool and all, but you can have this on a plate in much less time than it would take you to get a quesadilla from the drive-thru.
---

Pair with chips and a pickle for a meal that rivals sandwiches from your favorite lunch spot.
---

You'll be amazed by how easy it is to create this light, healthy salad. Throw all of your ingredients in a bowl, toss, and you're ready to go! Eat it alone or on a croissant — either way, it's delish.
---
Some days, eating clean isn't in the cards. Prepare for that day by screenshotting this recipe, bound to come in handy sooner rather than later.
---

We're cool with eating avocado toast for any meal of the day. To ensure that this recipe takes just ten minutes or less, prep and peel hard-boiled eggs ahead of time.
---
If you're on a low-carb diet like keto, this recipe needs to be on your radar. Are you drooling yet?
---
Love spinach artichoke dip, but feel weird eating it for lunch? Try this grilled cheese recipe instead. We guarantee that it will rock your world.
---

As evidenced by this photo, an egg roll bowl does, in fact, look as good as it sounds. Take our word for it that it tastes just as good as it sounds, too.
What are some of your favorite recipes when you're crunched for time? Let us know in the comments below!
xx, The FabFitFun Team